Mandarin
Click here to view our Progression of Skills Overview
Children at Conway Primary have the opportunity to experience weekly Mandarin lessons taught by specialist tutors. Language learning in KS2 is now a compulsory part of the National Curriculum therefore each class will have one lesson every week taught by our Mandarin specialists and native Mandarin speakers. The lessons are designed to help your child learn in a fun, active and inspiring way and teach skills of speaking, listening, reading and writing in Mandarin.

At Conway Primary School we are passionate about providing our students with a range of different learning experiences, one of which is Mandarin Chinese. We've teamed up with MANDO SCHOOL (www.mandoschool.com/school) to teach our Children Mandarin Chinese using multimedia through fun story-led adventures, role-play, games, songs, listening, speaking, reading and writing activities.
MANDO SCHOOL's programme is designed to enhance and develop children's critical thinking, problem solving, creativity, empathy, emotional and social well-being through their range of activities. This includes writing stroke orders, matching the pin yin to the correct character, karaoke, drawing what the teacher is describing in Mandarin, learning the history of China and Chinese culture, word search, cross words and so much more.
MANDO SCHOOL focuses on teaching Children:
Listening and understanding everyday Mandarin words and phrases.
Learning how to communicate thoughts and opinions, as well as asking and answering questions in Mandarin.
Performing basic comprehension skills when reading texts and stories in Mandarin.
Learning poems, songs, stories, rhymes and games in Mandarin to help with vocabulary and cultural awareness.
Interpreting and describing people and places with basic Mandarin sentences.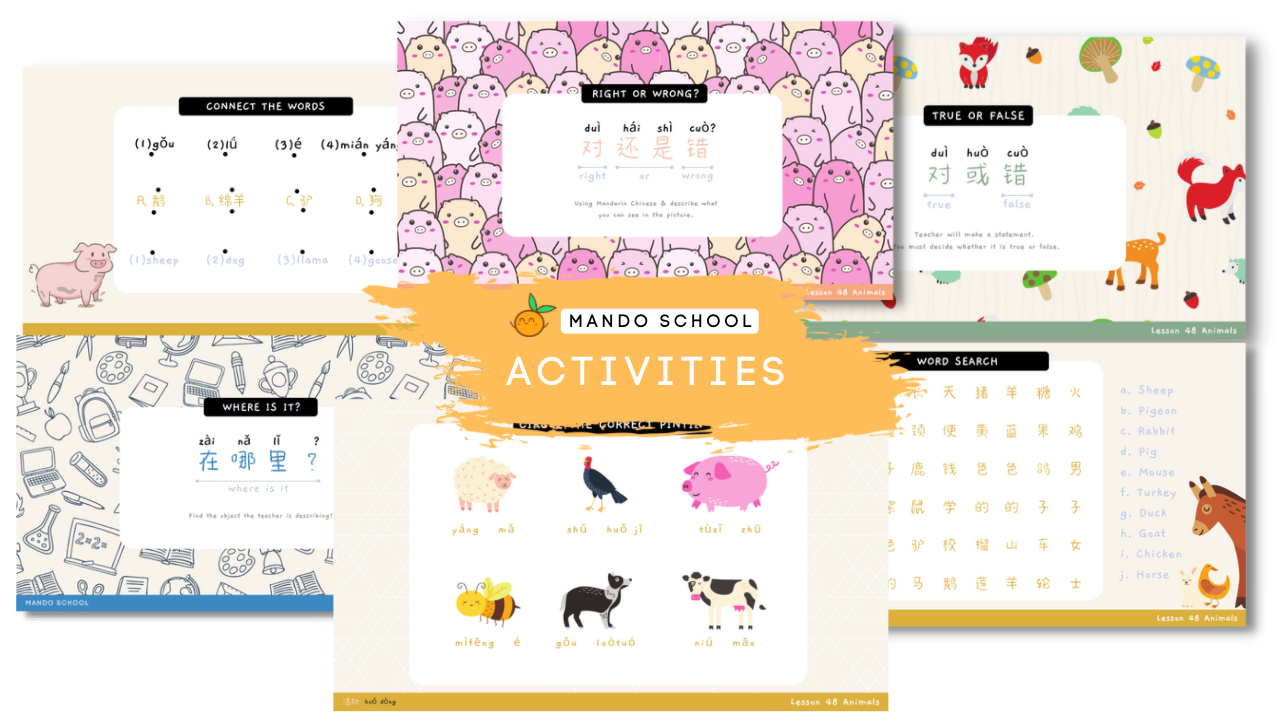 Topics include greetings, numbers, colours, family members, friends, animals, nature, seasons, weather, transport, food, drinks, emotions, locations, jobs, body parts, school, recreational, leisure, restaurants and feelings.
A typical MANDO SCHOOL class starts off with recapping last weeks vocabulary, highlighting a fun trivia or fun fact, hitting those high notes with a song, explaining today's vocabulary, learning a story, practicing stroke orders, completing two activities and two games, repeating the same song then watching a short video about Chinese culture, language or food.
You can find out how MANDO SCHOOL works in line with the National Curriculum: https://www.mandoschool.com/blog/Mando%20School%20Underpinning%20The%20National%20Curriculum
For more information about MANDO SCHOOL please visit: www.mandoschool.com/school