Year 2
Click here to view our Year 2 Curriculum Map
Autumn term
English
In English, our focus reading texts were linked to traditional tales: Goldilocks and the Three Bears by Lauren Child, Me and You by Anthony Browne and Jim and the Beanstalk by Raymond Briggs. We loved role playing different characters and created wanted posters for Goldilocks. We learned about expanded noun phrases to make our descriptions more interesting.
We also learned to include emotive language in our letter, in the role of the Giant in Jim and the Beanstalk, to thank Jim for his help. We made up our own sequel to the story by inventing other things that the Giant might need to make him happy. We worked hard to include a range of sentence types and use the correct punctuations.
Maths
During the Autumn term, we reviewed Place Value and learned how to represent numbers to one hundred in different ways. We explored different equipment to make tens and ones in different ways. We also practised spelling numbers to one hundred. Some of us could spell all one hundred correctly already-how amazing is that!
In addition, we learned to use number lines to help us add and subtract two-digits with two-digit numbers. We learned to make connections between what we know and other related facts. Our teacher taught us to work systematically to keep some things the same and change some things in an orderly way.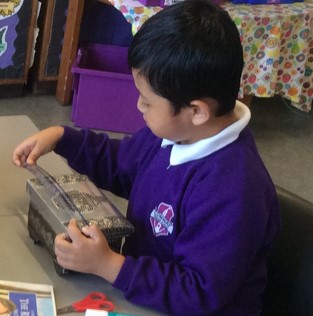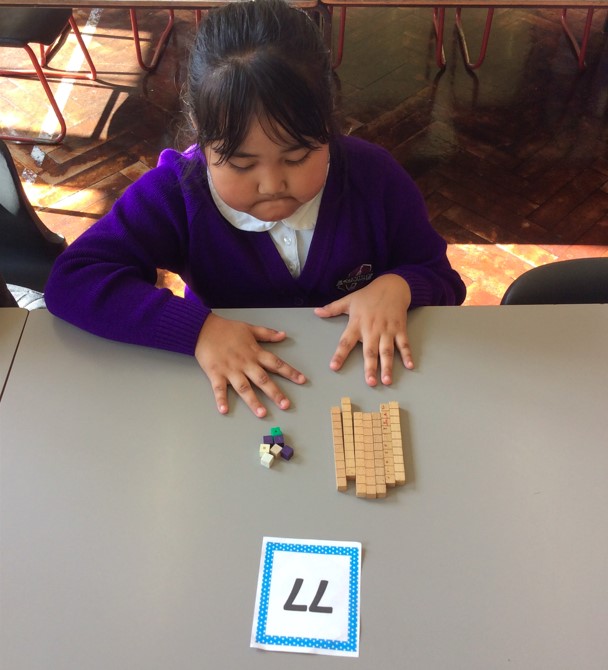 Science
In science, we learned about living things and how we can tell if something is alive, dead or never lived. We sorted foods into different food groups and learned what makes a healthy diet. For our science experiment, got our hearts beating faster with exercise and learnt how to count our heartbeat (that was pretty tricky, but we enjoyed doing bunny hops and star jumps!).
For our science topic on Habitats, we learned about plants and animals that survived in different habitats. We worked in teams to create posters of different habitats and presented our habitat to the rest of the class. Some of us even created mini shoebox habitat for our homework project (check out our homework page).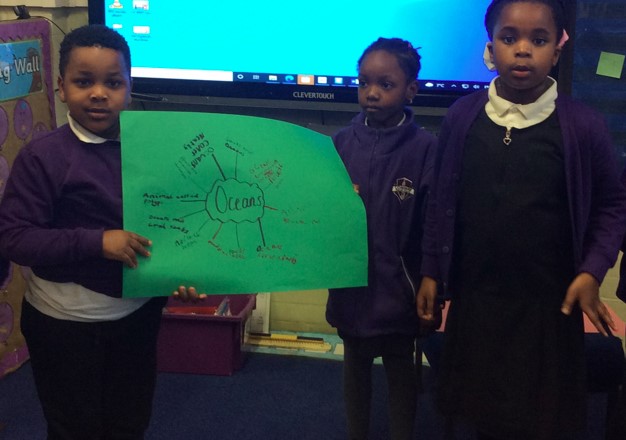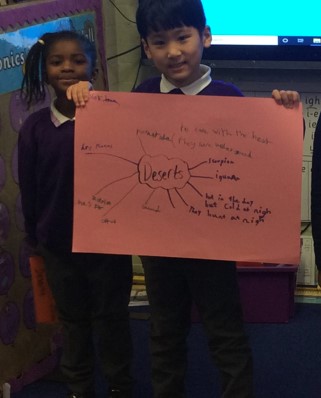 Topic
During topic, this term, Year 2 have been learning about Oceans and Seas. Initially, we identified seas around the UK and then moved on to oceans of the world. The children started their journey on a seaplane moving through the capital cities of the four kingdoms of UK. Now our children are able to name the four capital cities. This was part of our sticky learning that enables learning to stick into their long term memory. It was interesting learning about how some sea creatures uses camouflage to survive. We explored how camouflage really works by creating our own camouflage artwork. We used our research skills to create fact files about different sea creatures and how they depend on each other to survive.
We also learned about different types of ships in the past and how they used Moss Code to communicate to each other. We were so excited to be able to crack the secret code that the Titanic sank in the Atlantic Ocean. We wrote our own list poems inspired by A Sailor's Pocket, using expanded noun phrases to describe things that a shipwrecked sailor might have in his pocket.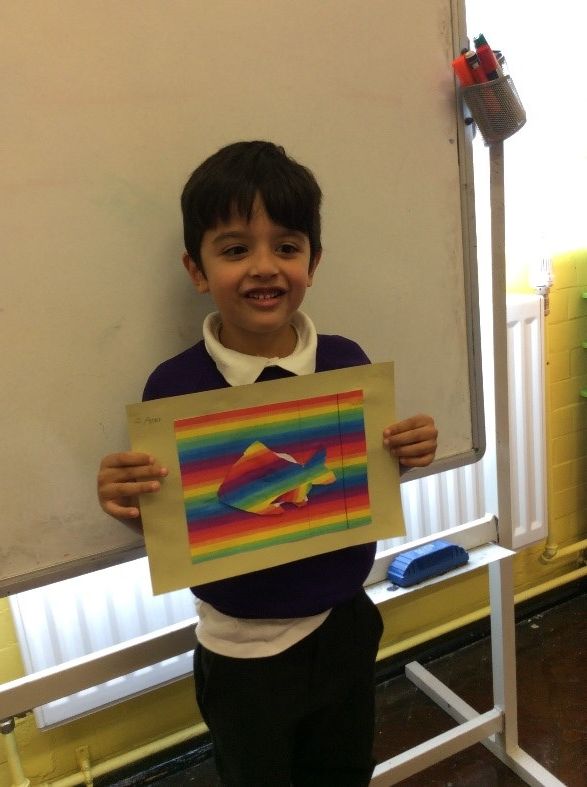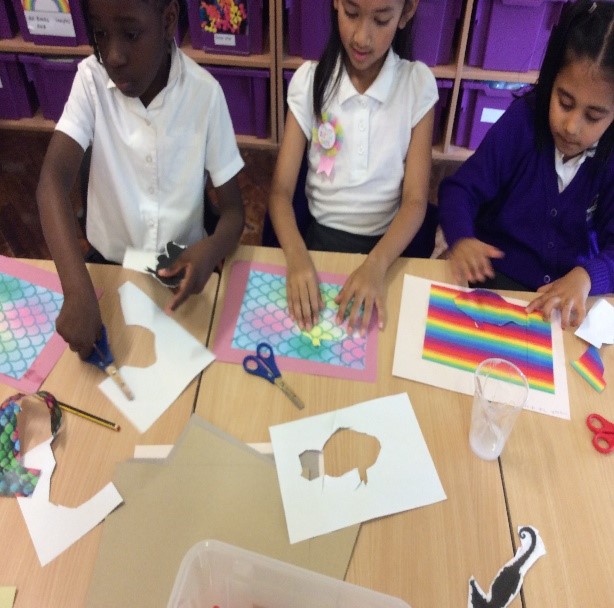 Art
The focus in Art for autumn 1, was learning about fabricate. The children learned about two textiles techniques, weaving and wax-resist dyeing. Before we started we looked at a famous textile artist like Gunta St olzl and craft makers around the world. This gave us inspiration for our own designs. The children really enjoyed expressing themselves through the artwork. We even created beautiful handmade heart bags using our paper weaving skills.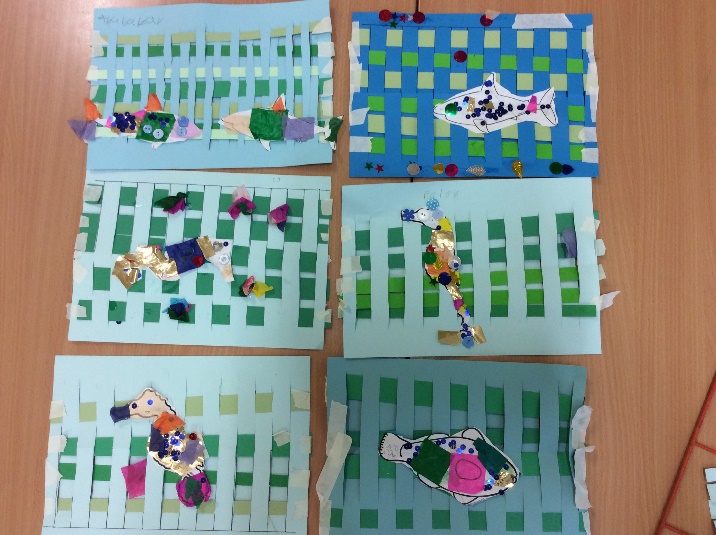 It was exciting working with melted wax to create Rangoli patterns using batik. We had to work quickly to create the pattern before the wax harden. We learned about using contrasting colours, different types of lines and shapes to create bold patterns using fabric dye.
DT
During DT, the children had to create a product to solve the problem of packing lunches in a strong, waterproof container that could travel on a rope between two ships. As research, we looked at current designs of lunch boxes and evaluate the strengths and weaknesses for each of the design. We then used our research to create our own product. The best part of the project was making a model of our designs using recycled containers and testing them. We found out that our designs were not as robust and practical as the shop bought lunch boxes. Finally, we learned how to improve our lunch boxes by looking at different ways to make the joining components stronger and create fasteners for the lids.
Computing
In computing this term, we learned about giving instructions. We learned about quarter, half and full turn. We practiced giving instructions using left and right turn to make different size squares and rectangles in the playground. Then we gave our partner instructions to move counters on a map to different locations. We are looking forward to progressing onto using logo on J2e to give instructions.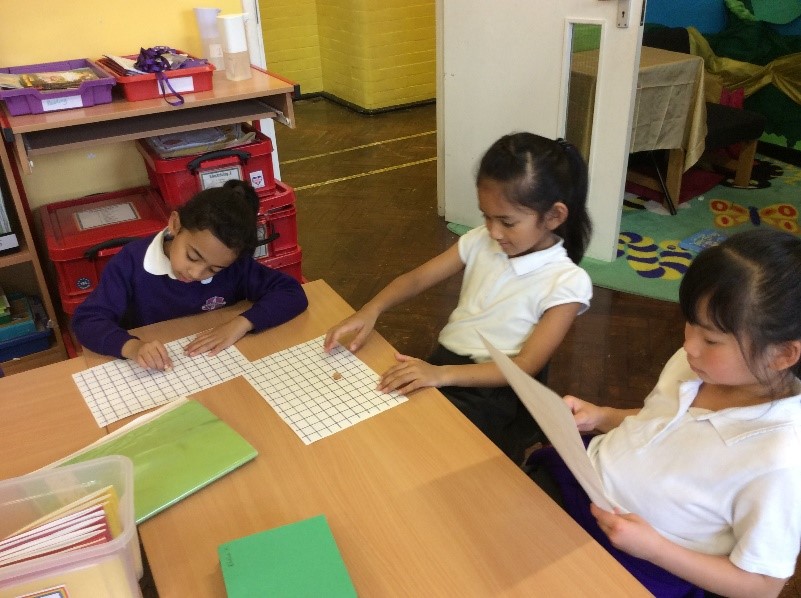 PE
This term in PE the children were practising throwing and catching with the ball, they worked in teams and with different groups to create their own games. Children mastered basic movements including running, jumping, throwing and catching, as well as developing balance, agility and co-ordination. They began to apply these in a range of activities. They participated in team games, developing simple tactics for attacking and defending
RE
The focus for the first half-term was Sikhism. We learned about the founder of Sikhism, Guru Nanak, and how his birthday is celebrated and remembered by Sikhs. We learned how Sikhs belief about equality is practiced in everyday life and in the Gurdwara.
For the second half-term, we learned about different celebrations focusing on: Christmas, Hanukkah and Diwali. We compared our own experiences of celebrations with religious festivals and discussed similarities and differences. We loved learning about the symbolism of the Christingle and created our own mini Christingles.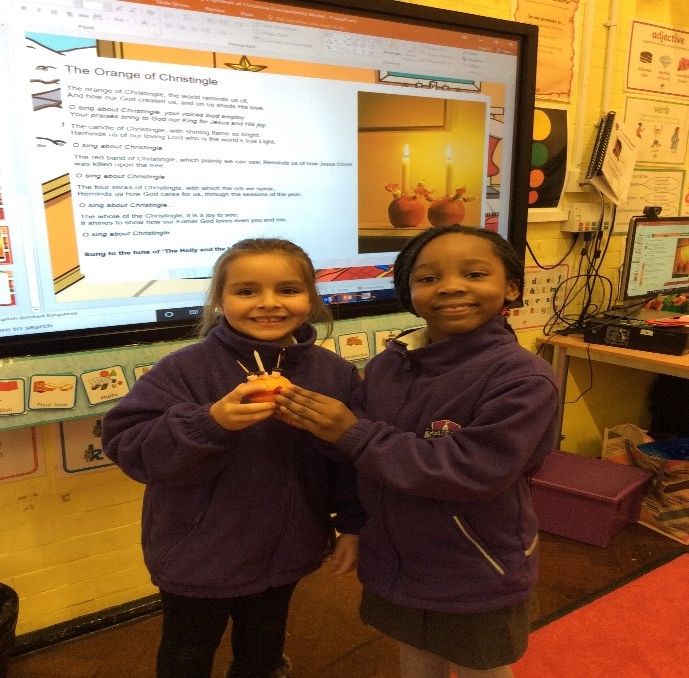 PHSE
This term, in PHSE, we discussed having happy relationships with very important people in our lives. We learned how to be a good friend and set goals to have happier relationships with our very important people. We also identify ways to stay safe at home and outside the home. We created road safety posters to put outside our school gates.
Music
In Music, the children were learning about simple rhythms and beats. Children in Year 2 performed a steady beat and a simple rhythm using movements and body percussion. They explored the difference between a beat and a rhythm. Children learnt about pitch using 'Animals' as their focal point. Playing pitch lines on tuned percussions combining the pitch change with changes in other elements. They enjoyed performing upward and downwards pitch direction.
Next term (Spring)
In English, we are looking forward to reading The Minpins by Roald Dahl. We will be using our senses to help describe a suspenseful setting and write our own version of the story. We will continue to further develop our knowledge of place value, gain a greater understanding of measures including mass and capacity and consolidate our