Year 4
Spring Term
English
In English during the Spring term, year 4 focused on the novel "Varjak Paw" by SF Said. We enjoyed reading the story and following the tale of Varjak as he discovered his true heritage as a Mesopotamian Blue cat. To begin with, we looked at describing settings and characters using the show not tell technique. We learned about various descriptive devices to help paint a picture in the readers' minds and how we could really enhance our writing so that it engages readers in the story. Following on from this, we wrote diary entries from Varjak's point of view. We focused on writing in the past tense and in the first person using our learning of show not tell to really demonstrate Varjak's emotions as he left his family to help find the one thing that would help save them from the strange, mysterious man who came and took their beloved Contessa away from them - a dog. We weren't finished there. Next up was narrative poetry where we looked at using figurative language to write a poem based on Varjak completing the 7 ways of Jalal - the founding cat of the Mesopotamian Blues.
After the half term break, we dove straight back into the book and looked at writing non-chronological reports about Mesopotamian Blues. We used the iPads to carry out important research and looked at various types of non-chronological reports to help plan our own. This included learning to identify facts and opinions and to organise the report under sub-headings for different paragraphs. The final focus for the half term was to write an exposition - a one sided argument. We reluctantly had to discuss why dogs made bad pets. We learned different persuasive techniques such as exaggeration, groups of three and rhetorical questions. You can see some of our performances of our expositions below!
We are really looking forward to our new story, The Wolves in the Walls in the Summer term and can't wait to show you what we have been getting up to!
Maths
In Maths, we have learned about the alternative number system (Roman numerals) and related this to our Base 10 system. The Ancient Romans used a different method of showing number. They are common in modern life: you might use them more than you think! They were used in coins, art and other artefacts. Today, Roman Numerals are still used for chapter headings, on some clocks, lists and for film sequels such as the Star Wars films. We identified what each letter represents I = 1, V = 5, X = 10, L = 50, C = 100, D = 500 and M = 1000. Did you recognise any of the letters? We also applied our understanding of Roman numerals to read the time and completed roman numerals number sequences.
Some of us have begun learning how to calculate the perimeter and area of a shape. We learned this quickly, especially the method that helps us to work it out. The teachers are extremely proud we know length times width is used to calculate area! Timetables is a focus we constantly learn, we have been learning our 7, 8 and 9 timestables and using multiplication facts to solve written multiplication (knowing our timetables makes us work it quicker). We will continue to practice these and learn the inverse to each multiplication. We further developed our understanding of shape by naming 2D shapes using mathematical names and described the properties of shape. Further to this, we used a Venn diagram to sort the shapes by identifying common features.
Science
Year 4's focus in Science this term has been States of matter. This science unit provided the children with a range of hands-on activities in which they explored solids, liquids and gases. Through investigation, they were able to categorise materials according to their states and describe their properties. The highlight of their learning was exploring the changing state of mater, with focus on heating and cooling. In addition to identifying materials that can change state from solid to liquid, the children were also able to carry out investigations to find out what temperature was most suitable for melting chocolate. Quite successfully, the children were able to transfer their knowledge of the different states of matter into understanding the different stages of the water cycle. Through research and discussion, they were able to explain how evaporation and condensation occur within the water cycle.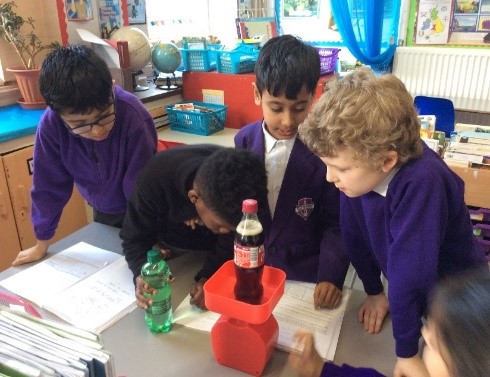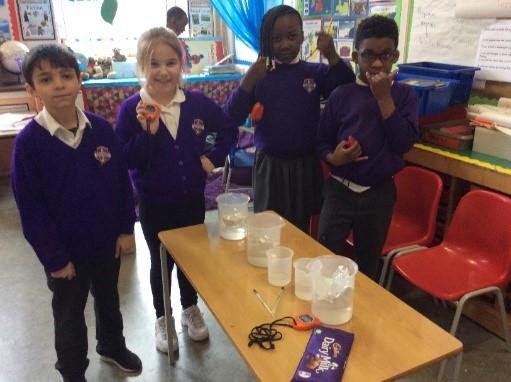 Topic
This term Year 4 have been looking at the Anglo-Saxons and Vikings. We began by looking at a typical day in the life of a Viking. As part of this we examined their clothes, food, arts, jobs and warfare. This led into writing a diary entry for a Viking; we focused on a hunter who went into the woods to find some prey for food and materials. This enabled the children to use emotive and descriptive language and discuss how a person would feel going about their daily tasks. After this we looked at the Anglo-Saxon justice system, focusing on crime and punishments. Children were able to see how they dealt with criminals in the past and moved into a debate how fair that system was. This also let us draw comparisons between that and our modern day system.
This term included a trip to the Greenwich Maritime museum where the children looked at Anglo-Saxon artefacts and used their knowledge from school to discuss what they could see.
DT
In Design Technology this term our topic has been 'Mechanical Posters'. We explored how mechanical systems work. Then we looked at different types of lever and linkage mechanisms, this gave us experience and information to draw on when developing our own ideas.
We decided that we would link the mechanical poster to other subject topics. We were given the choice to choose which subject topic to link our poster to. Next we sketched a design based on our ideas, then made a prototype. We will be making our mechanical posters using recycled materials in the first few weeks of the Summer Term.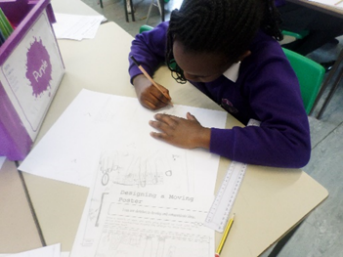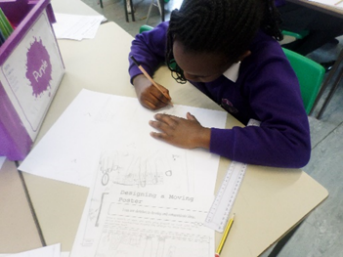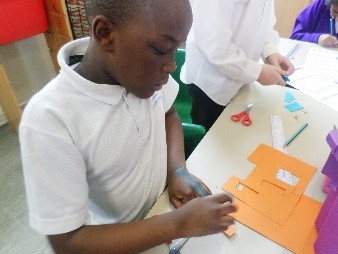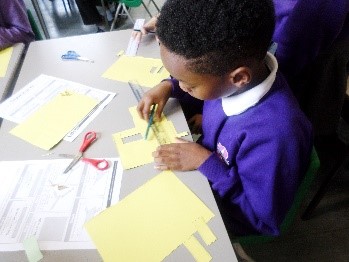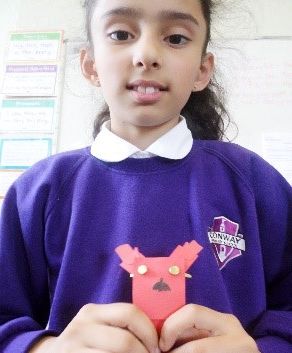 Computing
This term we have been 'Software Developers.' We looked at different online games and discussed what makes a good game. We used our research to develop our own game prototype.
Next, we began building our game by adding repetition, sound effects and levels. We focused on making our game educational and targeting a certain audience.
Finally, we tested each other's games and gave feedback, so we were able to improve where needed.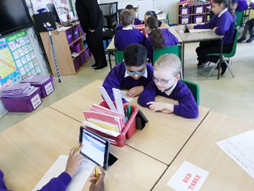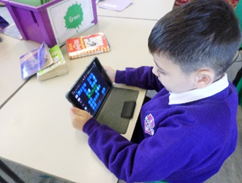 We have also been 'Meteorologists'. We learned about how the weather is monitored and predicted. We looked at the predicted weather over several weeks and created a weather table. This helped us see how accurate the predictions were. We created a spreadsheet, which enabled us to identify and compare any patterns and changes.
Finally, we used our knowledge and understanding from our learning to be Meteorologists and make our own weather predictions.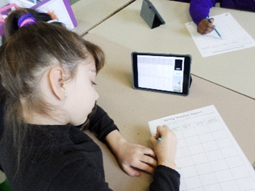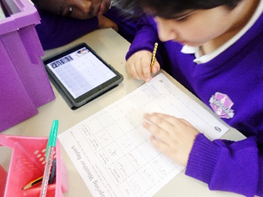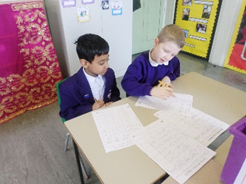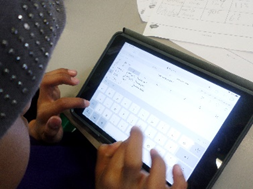 PE
This term in PE the children worked on hard to improve her co-ordination, agility and control through a range of games. The children can independently balance on one leg, and can balance apparatus such as cones on different parts of their bodies. Also they have worked well as a part of a team and have been able to suggest how to improve their work.
RE
This term in RE we continued learning about Judaism. We have looked at what the Torah is and why it is important to Jews (we summarised what we learnt in our own words). Did you know the Torah is a special book in Judaism? The Torah is important for Jews as it gives them rules which they need to abide by. We reflected on this and discussed why rules are important in our society. From the discussion, the children came up with their own rules for the playground and explained why it is important to follow rules. In addition, we looked at the special place of worship for Jews. Did you know Jews worship in a Synagogue? During this learning we found out what is inside a Synagogue and the what the role of the Rabbi is
In Spring 2, we moved onto learn about Weddings (celebration of love and commitment by two people). We had an insight to how weddings are celebrated by different religions. After we examined each religion's wedding ceremonies, the children answered the following questions below:
1. Who is it all about?
2. What are the people doing?
3. Why are the people doing it?
4. What are they wearing?
5. Where are they doing it?
6. What symbols are used at the ceremony?
Then we went on to compare the similarities and differences of weddings celebrated by the five main religions.
Music
The focus in Music this term has been 'Around the world.' We explored pentatonic sound. We worked in groups to create a piece of music. We looked at 'Amazing Egyptians', we learnt a verse and chorus song, showing our understanding that melodies have phrases This also helped us when exploring layers and layering within a piece of music.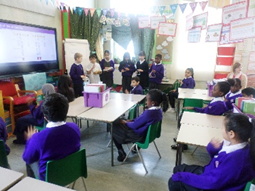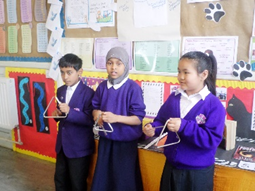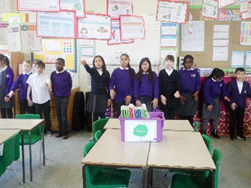 Next term (Summer)
This term in English we will be learning the features of descriptive writing with a focus on using imagery. We are very excited develop our writing techniques by using figurative to engage the reader! Also, we will be given the opportunity to write a letter to the main character.
We will continue to further develop our knowledge of place value, gain a greater understanding of time, using all four operations involving conversions (for example, days to weeks, expressing the answer as weeks and days). We will also be using our knowledge of the 7 timetables to convert days to weeks and apply this in different contexts. Further to this, we will apply our knowledge of calculation in the context of statistics, using all types of graph.
During the summer term Year 4 will be learning about 'Extreme Earth' in Topic For this they will be learning about the layers that make up the Earth; show were most volcanoes are found and explain how to keep safe during an earthquake. During Summer 1, in Science we will be learning about 'Electricity' and then move onto learning about 'Sound' in Summer 2.
Autumn Term
English
In English this term, our focus reading text has been Into the Forest by Anthony Browne. We have enjoyed reading the story. We wrote a setting description about the boy's journey through the deep, dark forest. Did you know that this story has other links with other traditional fairy tales? We loved learning about narratives and the features they contain such as the five parts to a story (opening, build up, problem, resolution and ending)!' We now know how to use different sentence openers to make our writing more exciting for the reader. Also, we consolidated our knowledge of how to write a detailed character description by including appearance and personality to make the characters more interesting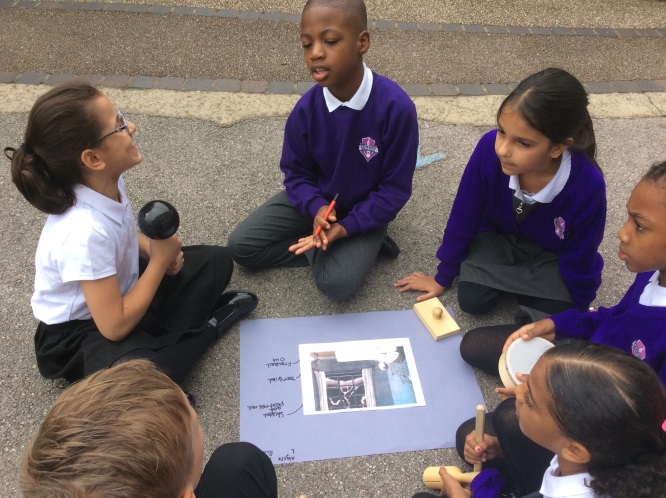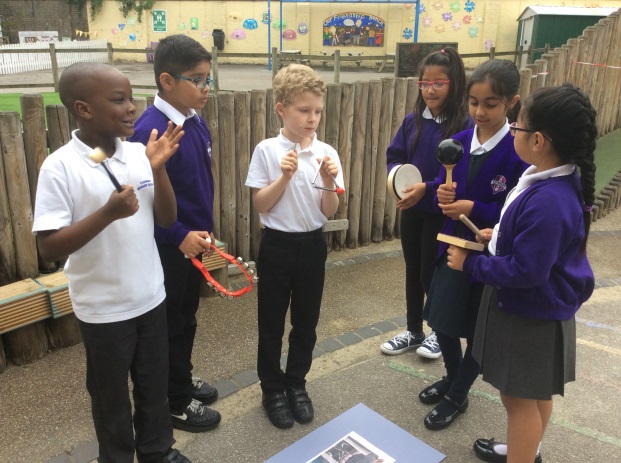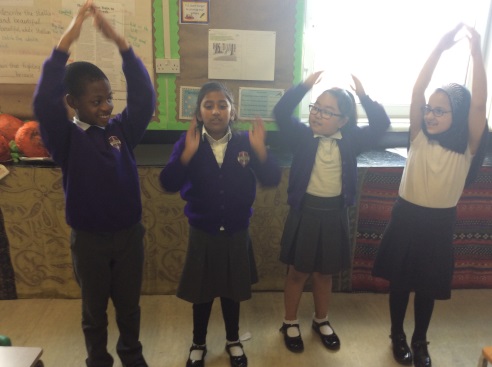 During Autumn 2 our writing topic was to write a newspaper report. We linked this to our focus text, Into the Forest by writing a newspaper report on the missing Grandma. It was exciting to become newspaper reporters for the day. We interviewed each other and discussed different scenarios about the missing grandma. We learned so many features for non-fiction text especially for newspaper reports. By the end, we are able to distinguish the difference between direct speech and reported speech. Also we attempted to use inverted commas correctly to indicate when something has been said.
Next term we are looking forward to reading Varjak Paw and finding out what adventures the main the character goes on.
Maths
In Maths, we have learned how to partition whole and decimal numbers We used our prior knowledge of understanding place value when partitioning decimal numbers. We applied this to solve place value word problems and showed our working out in a systematic way. We are able to round decimal numbers to one and two decimal places. We also learned different mental strategies to help support mental calculations. For example the bridging method, compensating method and identifying number bonds. We are constantly working with strategies that are efficient to help derive our answers when answering mental calculations. Some children are confident with using a range of different methods to find the answer to a mental calculation.
Also in Maths; we will consolidate our learning on multiplication and division using a formal written method.
Science
Our Science topics for the autumn term have been Living Things and their Habitats and Animals including Humans. While learning about living things and their habitats, we have learnt to identify, sort, group and classify living things. We were able to associate scientific names with the different groups. This includes, differentiating between vertebrates and vertebrates. We also investigated the different categories of vertebrates, mammals, amphibians, birds, fish and reptiles. Through research, we are now more aware of the unique features of each species, which makes it different from other animals.During autumn two, our Science learning focused on the digestive systems of humans and animals, as well as, the functions of the teeth. We learnt the names and functions of the different parts of the digestive system, after which we compare and contrast the human digestive system with that of other animals. With the teeth playing a key role in the initial stage of digestion, we then explored the different types of teeth and their functions. It was fascinating to investigate the relationship between animals and the foods they eat. This includes herbivores, carnivores and omnivores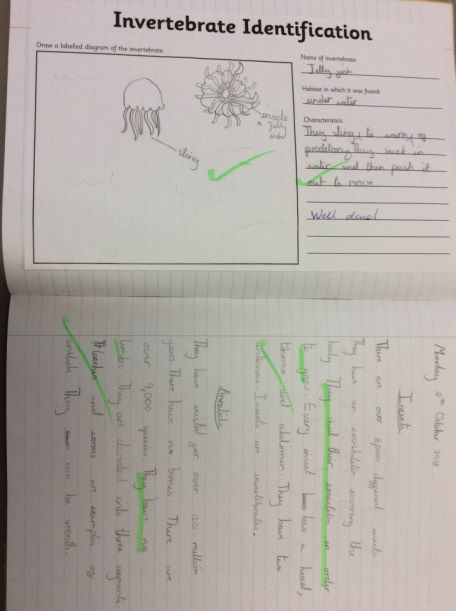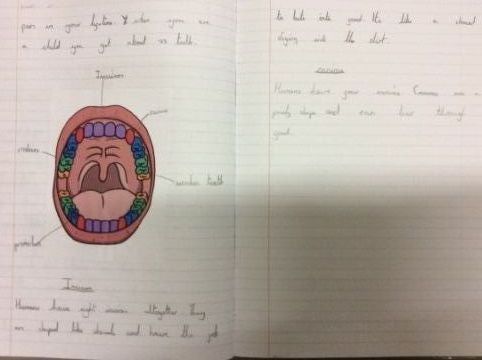 Topic
Over this term we have learned all about the Anglo-Saxons and the Scots – a period spanning over 600 years! We began by looking at the invasion and settlement of Britain and how it sculpted new lifestyles and cultures. We studied life in Anglo-Saxon villages, how people crafted tools, farmed the land and traded goods. We acted as historians and archaeologists by looking at artefacts from the period and wrote a newspaper report on the discovery of a brand new artefact. As we moved into Autumn 2 we looked at the Pagan religion; its gods, beliefs, practices and legacy. We produced some fantastic non-chronological reports on the gods and will end the term by looking at their conversion to Christianity.
Next term we move onto the vicious Vikings!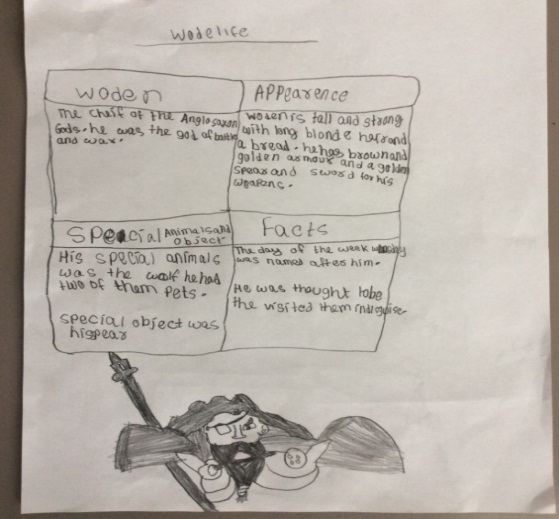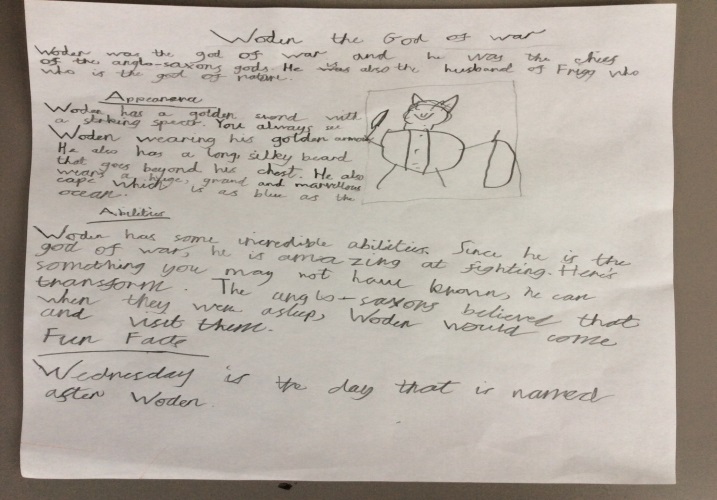 Art
The focus in Art this term has been on mosaics, as we were learning about the Romans in Topic, it seemed rude not to. We researched different mosaics and explored where they may have been found, what they looked like, the details in them and how they were made. We then started small and created our own patterns using small squares. Once we were confident with that we then drew out mosaic grids and created shapes and pictures using squares and colours (this is much harder than it sounds like)! We even made sun-catcher mosaics and displayed them in our Art classroom.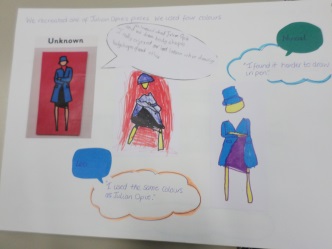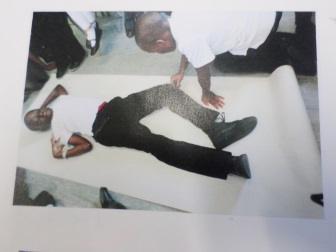 In Design Technology this term we learned how to make a kite. At first, we all thought we knew how they stayed in the sky, the wind right?! Oh no, there are many different parts of a kite and each one has a specific role to play in the flight of a kite (ask us so we can show off what we know). So, we learned about the different parts and then used this to design our own and really thought about what resources we would need to use. We then made our kites using our designs and even took them to the playground to test them.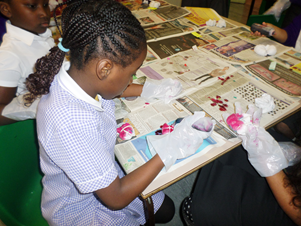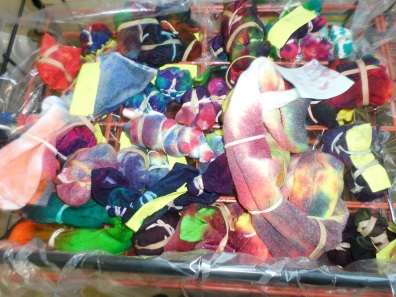 Computing
In computing this term, we created our own wiki page. We linked this to our topic work on Anglo Saxons. We used iPads to research our ideas and make notes like real researchers. We then planned it out and used an app on the iPads to create our wiki page. For this we had to develop our understanding of the purpose of creating a wiki page. We were able to edit each other's work and communicate using the iPads whilst creating our wiki page.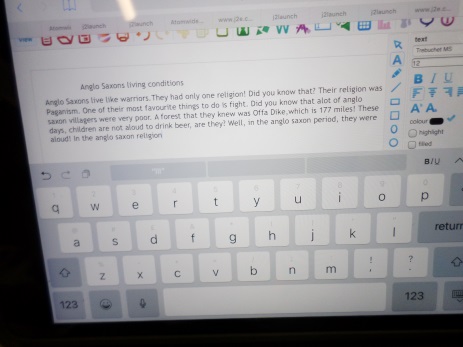 Swimming
This term we are continuing with our swimming lessons. We have all gained confidence in the water. Most of us are able to go under water to retrieve objects and some of us are now strong swimmers. A few of us are still learning but are now able to swim using swimming aids. We have really enjoyed working with our swimming coaches and are looking forward to continuing to swim next term.
RE
This term in RE we have been learning about Peace. We have looked at what peace means to us and our community. Did you know we had a peace checklist? This really enabled us to ensure we were facilitating peaceful actions in School, at home and in our community. Many of us wanted to help one another and found alternative ways to avoid conflict so we can live in a peaceful way.
Below is an example of some of the ideas we came up with.
Acts of Peace Checklist
At School
Listen to all the adults.
Work as a team.
Be a good friend
At Home
Help my siblings.
Keep my bedroom clean.
In my community
Put the rubbish in the bin.
Say nice things to each other.
We looked at famous people and how their attitude to peace changed lives. It was fascinating to learn about how peace contributed to improving lives. For example Martin Luther King was instrumental in changing attitudes through peaceful protests during the time of black and white segregation in America. We used this to reflect on our lives and how we could use peaceful techniques to improve the quality of our lives.
We really enjoyed learning about Judaism Shabbat. Did you know that Shabbat is the Hebrew name for Sabbath? The important thing we learned is that Shabbat is day of rest for all Jews. So from Friday evening all housework and preparations are done so they can rest on the Saturday. On this day they go to the synagogue to offer special prayers and sections of the Torah are read out. We enjoyed watching how Shabbat is carried out and different roles the family members have.
Music
During the autumn term in music we have been consolidating our understanding for rhythm and singing. We have been exploring different sounds using our voices as instruments. We have written our own raps, using our voice to create a beatbox. We had so much fun doing this! We also have learned a variety of songs where we had to learn the lyrics and sing along in tune as a whole class (this is harder than it sounds)!
Now we are learning to play the recorder and the violin. We have been taking it in turns to learn each instrument so we all have the opportunity to learn each one. Our teachers have been very impressed with us so far!
Next term (Spring)
This term in English we will be learning the features of an adventure story, how to write an exciting plot and character descriptions. We are very excited to put our skills to the test and develop on these further!
In Maths, we will continue to further develop our knowledge of place value including Roman numerals and negative numbers. Also consolidate our understanding of using mental and written strategies in addition, subtraction, multiplication and division.
During the spring term we will be learning about 'The Vikings Anglo Saxons' in Topic. For this they will be learning about who are Vikings and Anglo Saxons. In Science, we will be learning about 'States of Matter' The children will begin to develop their understanding of gases, liquids and gases. During Art we will be learning about Andy Warhol and focusing on printing. How exciting is that?
If you would like to have a look at the national curriculum website please click here.