Topic Days
Diwali 2019
In year 1 we learned about Diwali; what it is and who celebrates it. We now know that it is also called the 'Festival of Light'. We studied what Hindus do to celebrate Diwali. They light special lights called diva lamps and place them all around their home - Diwali literally means 'row of lamps'! We learned that the reason lamps are lit is to help Lakshmi (the Goddess of Wealth) find her way into people's homes. They also have huge firework displays and give presents to one another. It is also a time for spring cleaning in the home wearing new clothes. We talked about the new clothes some of us wore and the Diwali parties we had. Some of us also drew rangoli patterns outside our homes on the floor in chalk. This is another way to welcome Lakshmi in.
We then used all this new information to create an eye-catching party poster to invite people to a Diwali party.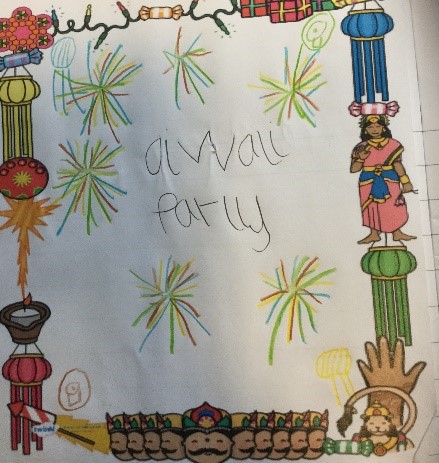 In Year 2 we also learned about what Diwali is; who celebrates it and how they celebrate it. However, our main focus of learning was on the story of Rama and Sita. This story celebrates good over evil, the lightness over darkness and knowledge over ignorance. Although many different Hindu countries have different versions of the story, the same outcome is learned. We learned about the Northern Indian story of the celebration of Rama and Sita's return from exile. We then re-told the story in our RE books.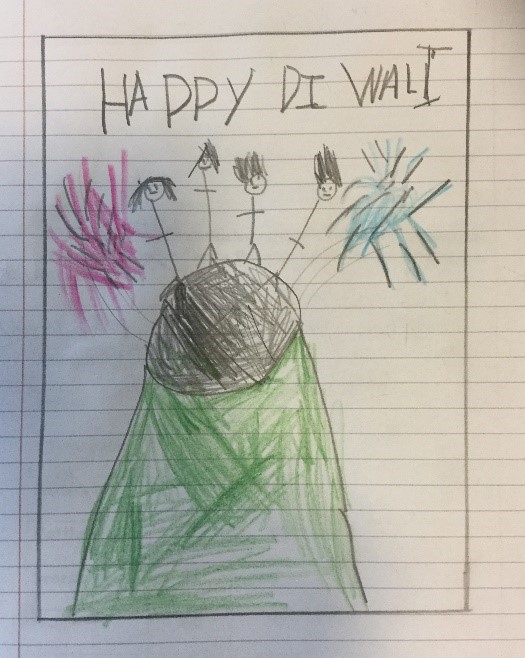 In year 3 we started looking at different photos of Diwali and discussing what was happening. We then went on to look at a video clip of Diwali and discussed the different things we saw and heard.
We learnt what happens before, during and after Diwali. What it means and who celebrates it.
We each filled in three different questions on Diwali in-depth and presented our answers to the class. Some of us even had time to design our own Happy Diwali card!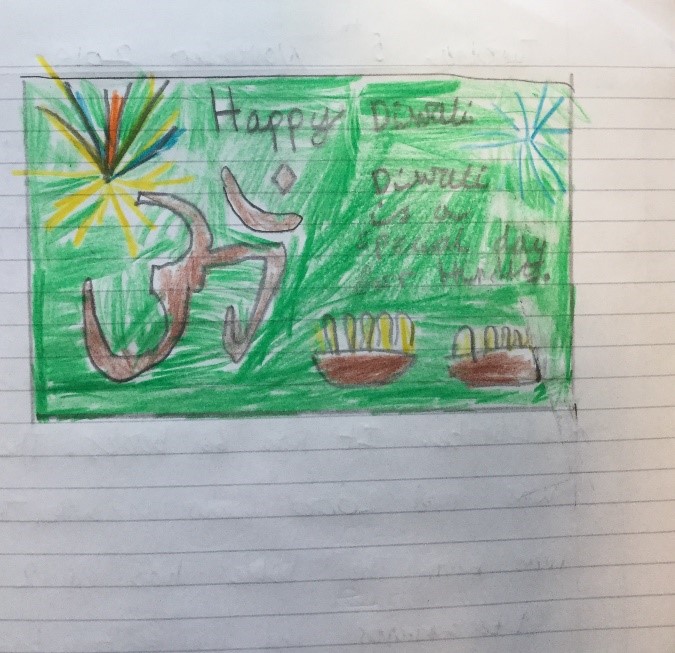 In year 4 we discussed what we knew already about Diwali and some of our classmates explained what happens in their families during Diwali. We watched a video clip and answered the different questions on our sheet from what we had learnt.
We discussed and recorded the different things that Hindu's do during the festival such as: Make rangoli patterns, have lights around the house and spend time family and friends, and why they do it. We even designed our own firework posters to take home.

In year 5 we looked at the different traditions in Diwali and discussed why the festival is celebrated. We learnt how it is celebrated throughout the world and the similarities and differences.
We looked at the common traditions in Diwali such as: cleaning houses, sending gifts and footprints by the door the reasons for these traditions.
In year 6 we read and discussed the story of why Diwali is celebrated today. We then verbally retold the story to each to understand it fully. We wrote the story in our own words.
The story of Rama and Sita. A good man, called Rama, was married to a beautiful princess, called Sita. They had been banished to live in the forest with his brother, Lakshman, by his stepmother, as she wanted her son to be King. The demon king disguised himself as an old man and tricked Sita and kidnapped her. She was later rescued by Hanuman, Rama and Lakshman. They later returned home – their way lit by lamps – and ruled well for many years.
This is why Diwali is called 'Festival of lights.'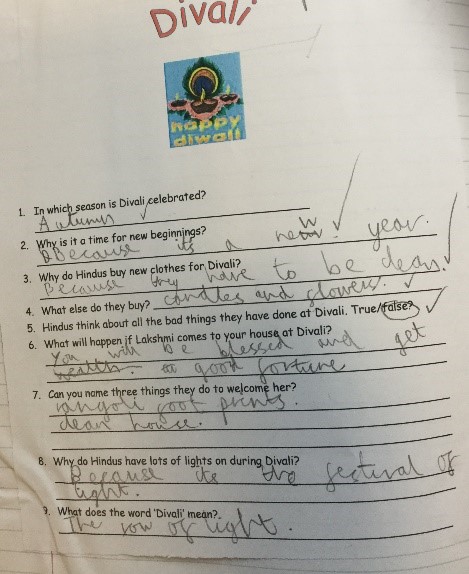 Remembrance Day 2019
The aim of the day was an opportunity to help the children understand why it is so important to remember those who have bravely fought for their country during war as well as focus on a specific aspect relating to war. Each year group had a different area of focus involving writing.
This year signified that 100 years ago the First World War ended, and a new world began. The example and experience of those who lived through it shaped the world we live in today. In 2018 The Royal British Legion is leading the nation in saying Thank You to all who served, sacrificed and changed our world.
Year groups completed activities around poppies, trenches, life on the front line, what it was like to be an evacuee, the poem In Flanders Field's and the role of women in war.
A display was created in school where every child decorated a Poppy using a different medium and they were used to make 100 to signify how many years since WW1 ended.
Nursery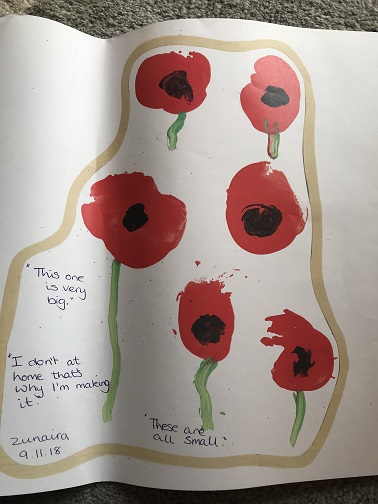 Reception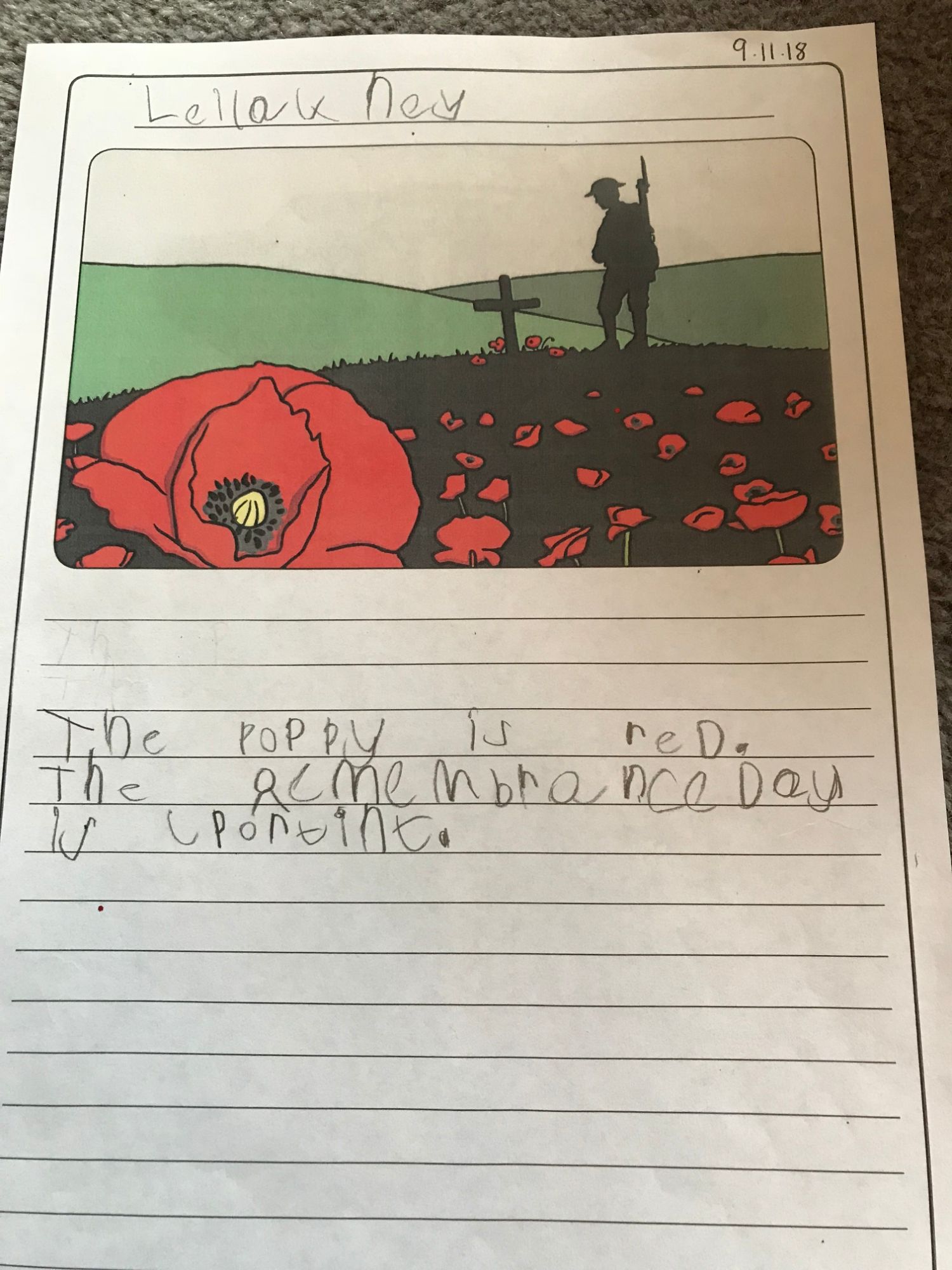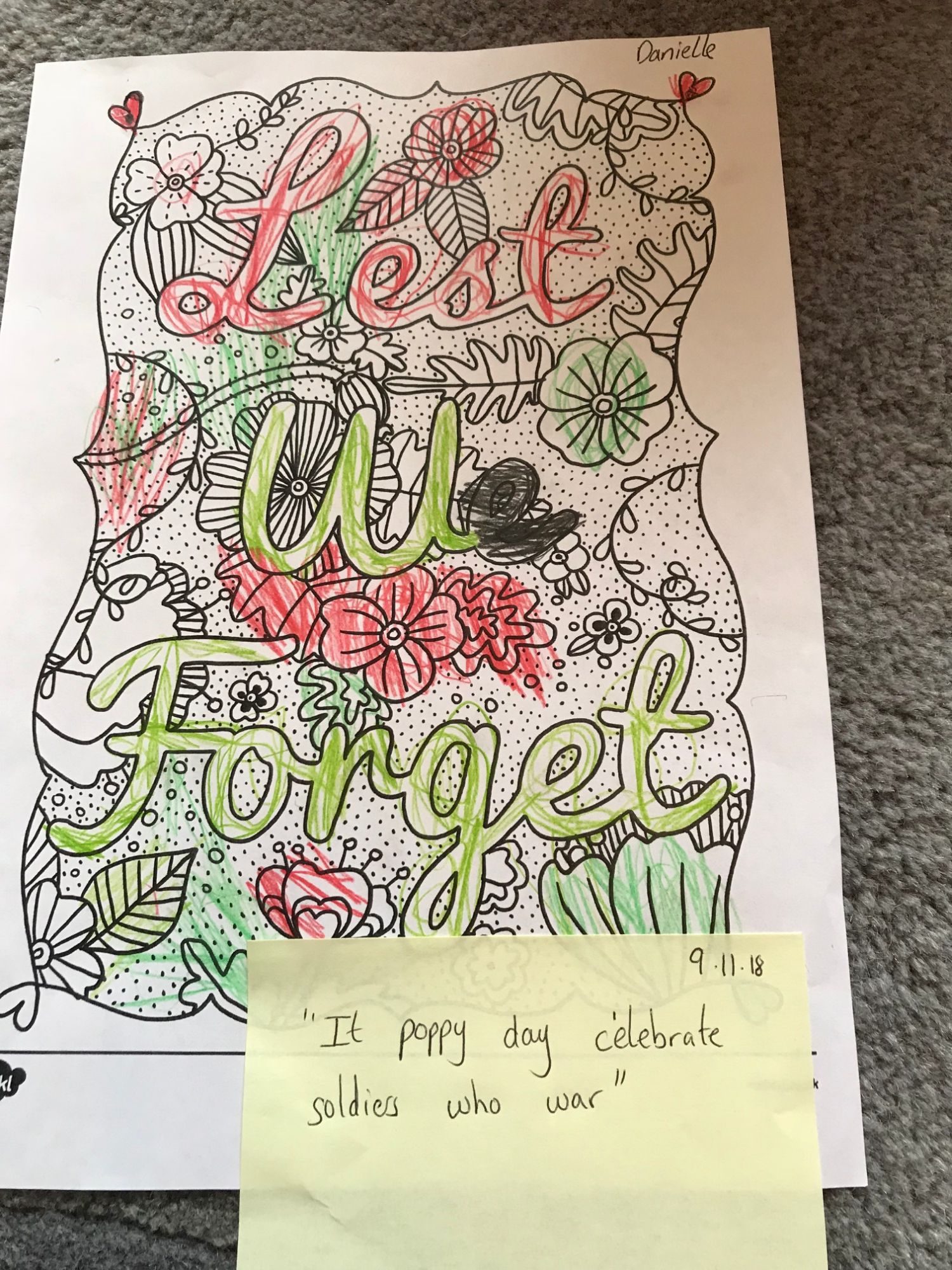 Year 4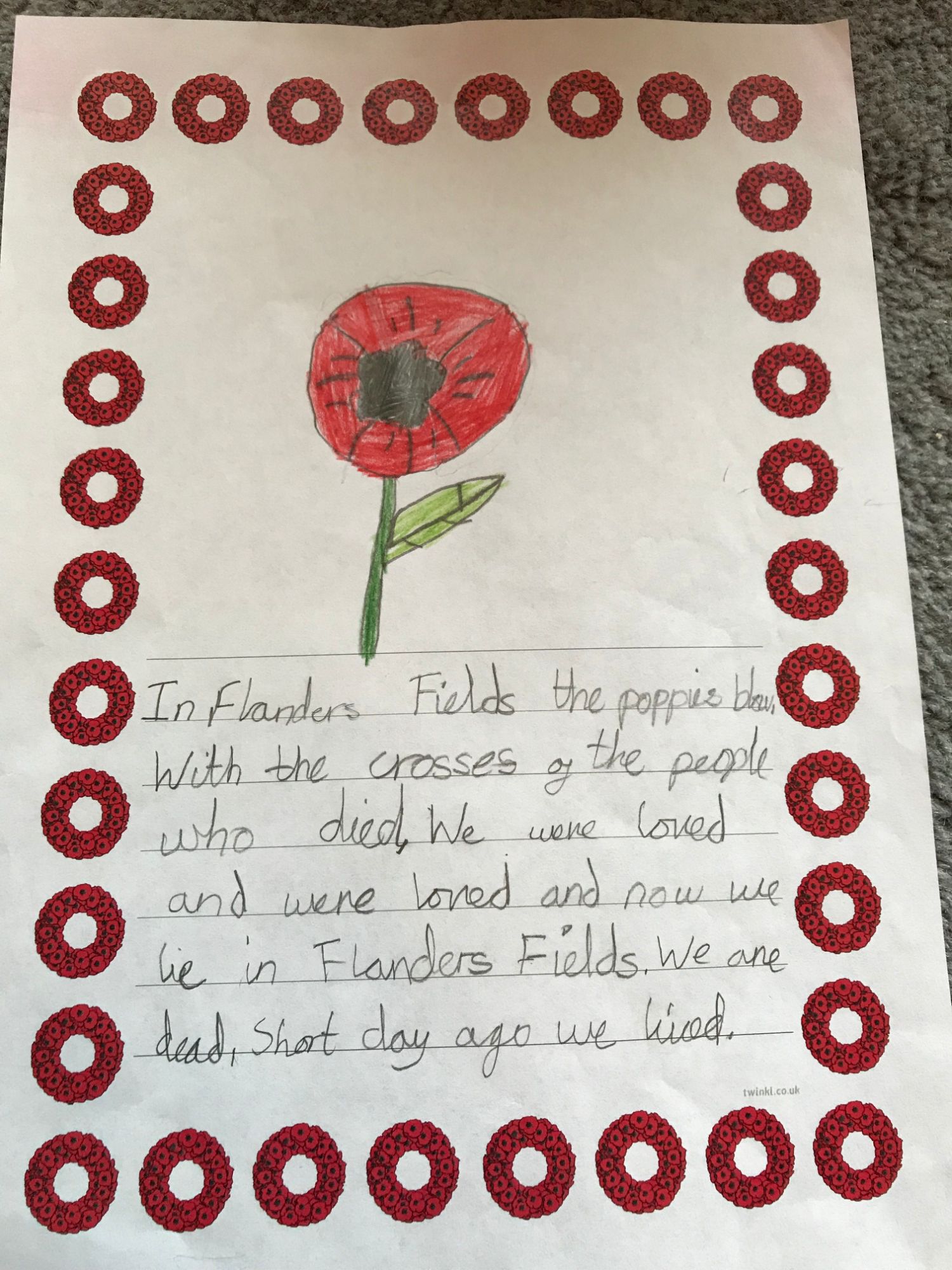 Year 6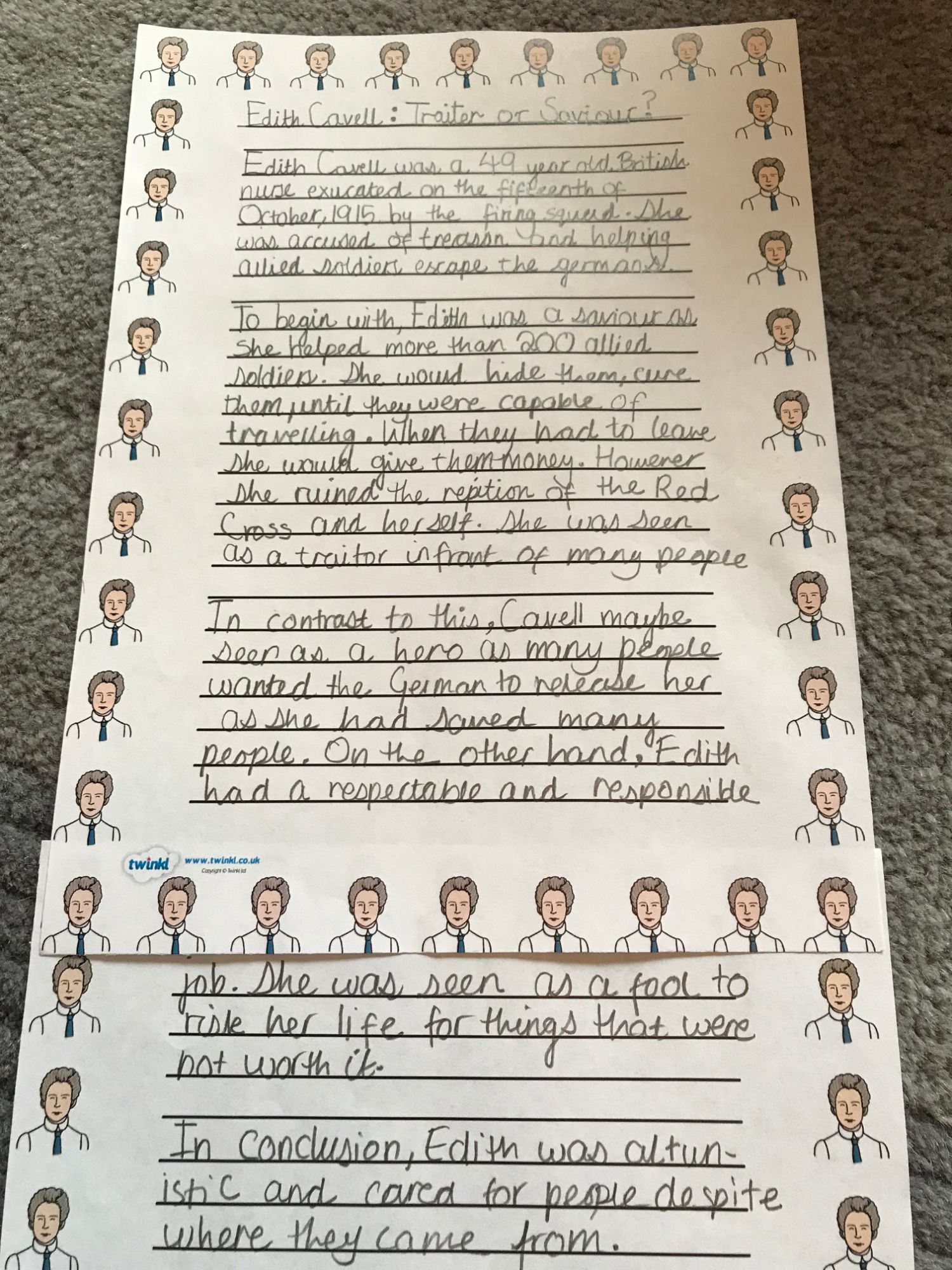 Anti Bullying Week 2018- 'Choose Respect'
The aims of the week were to support the children and staff to understand:
· The definition of respect
· That bullying is a behaviour choice
· That we can respectfully disagree with each other i.e. we don't have to be best friends or always agree with each other but we do have to respect each other
· That we all need to choose to respect each other both face to face and online
(Taken from Anti bullying Alliance)
Each year group completed a piece of work linked to the 2018 theme 'Choose Respect' during their PSHE lesson.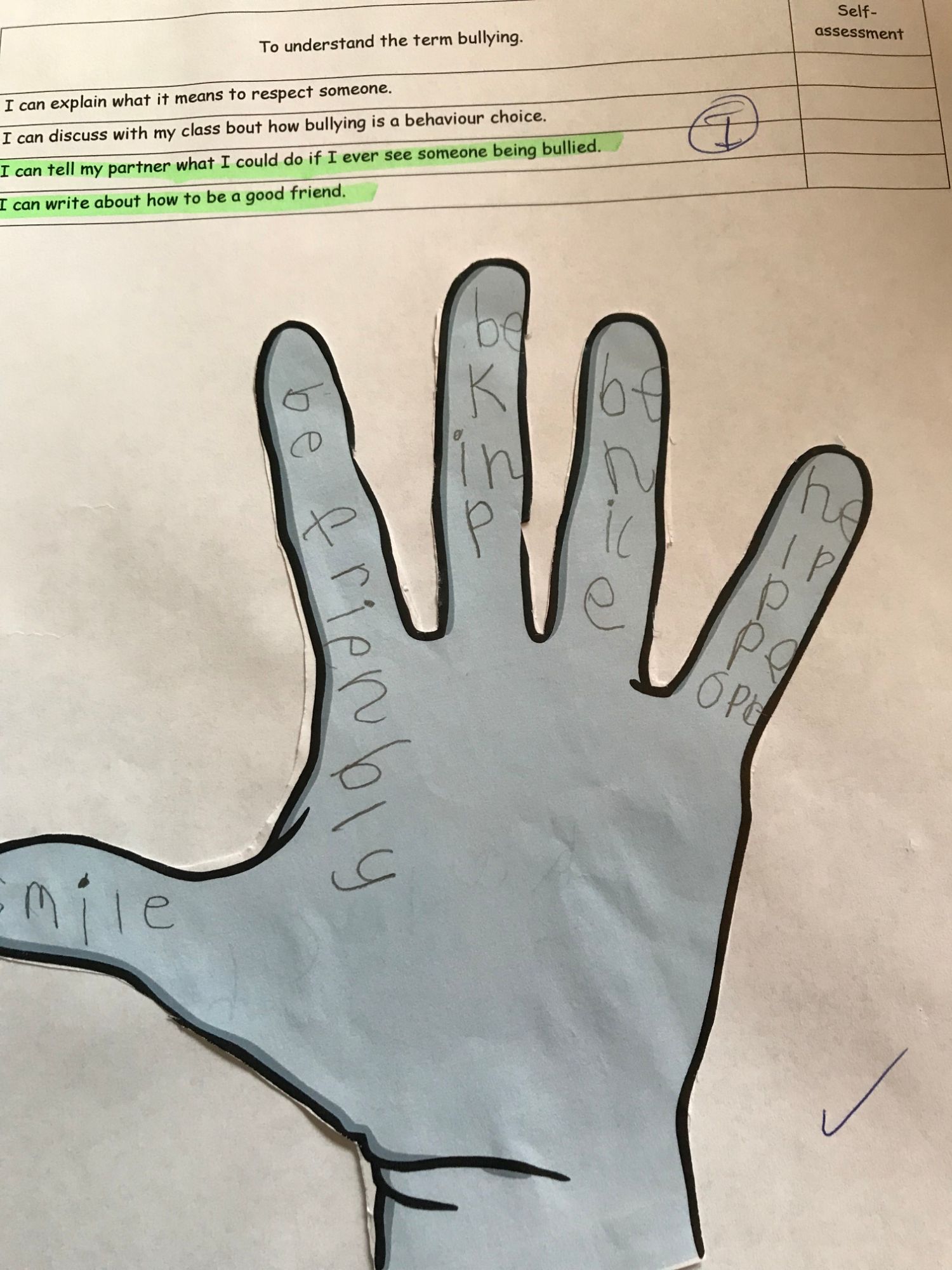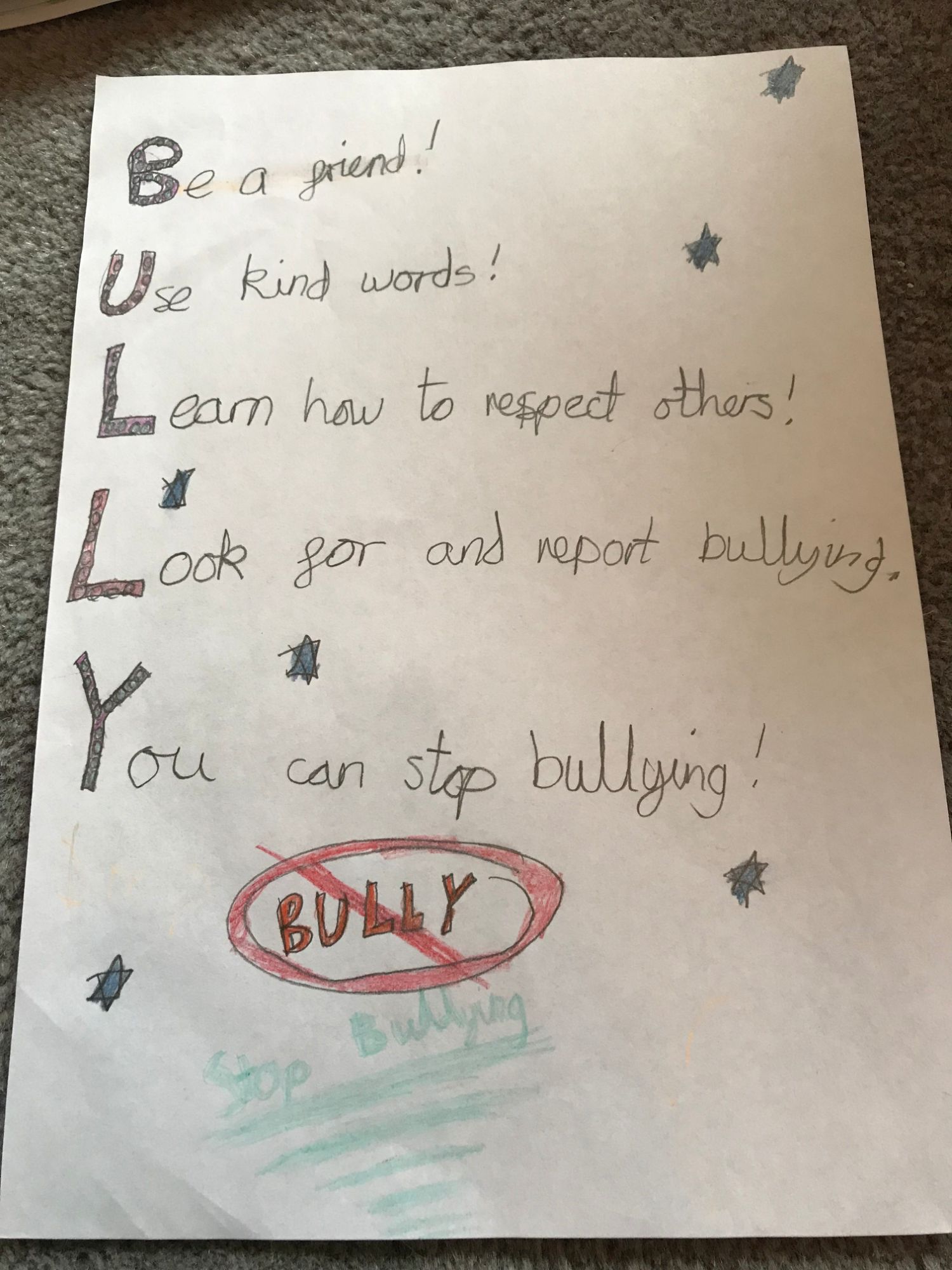 Nursery Rhyme Week
This year for nursery rhyme week the children within EYFS looked closely at 5 different nursery rhymes, 5 Current Buns, Humpty Dumpty, A sailor went to sea, I'm a Little Tea Pot and Round and Round the Garden.
We all were very excited to take part to celebrate and promote singing Nursery Rhymes this week. We had so much fun learning new rhymes and taking part in various Nursery Rhyme activities.
Rising Stars
To end our amazing week we performed 'I'm a little tea pot' rhyme. We looked amazing in our teapot hats and were very proud. Everyone clapped!
We made currant buns in our bakers shop with chocolate play dough. We joined in with actions and vocals to the Nursery Rhyme Five currant buns using props.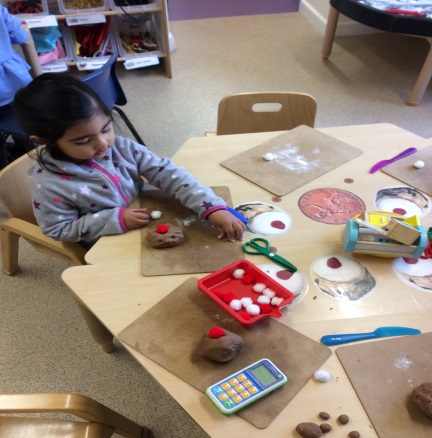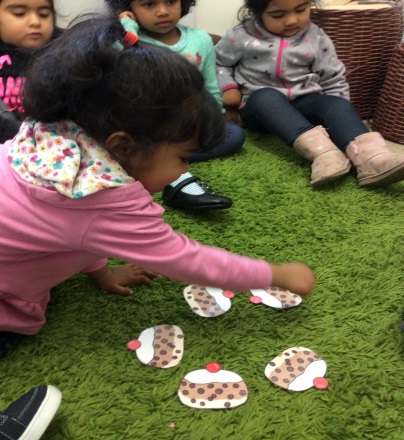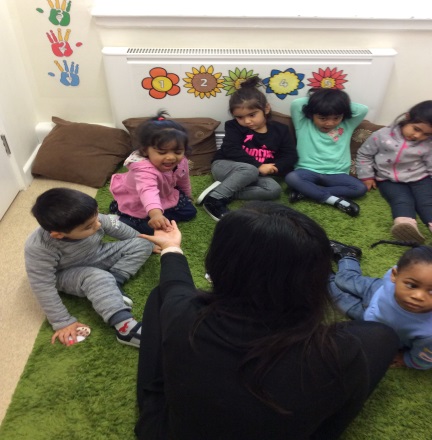 We iced biscuits and made Humpty Dumpty.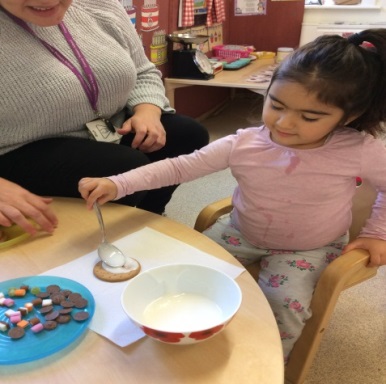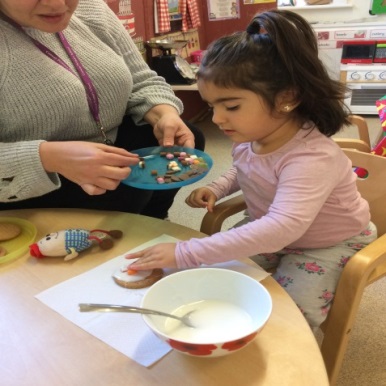 We made teapot hats and had fun joining in with the rhyme 'I'm a little teapot'.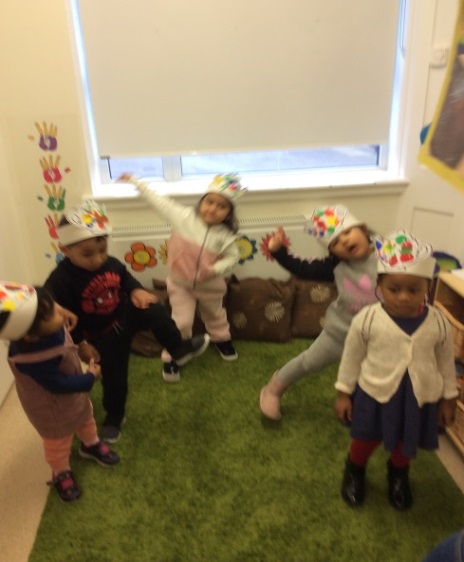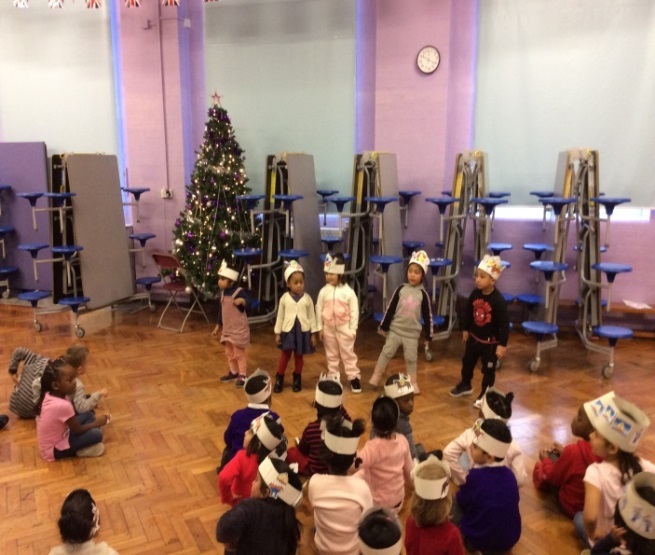 Our World Nursery Rhyme Display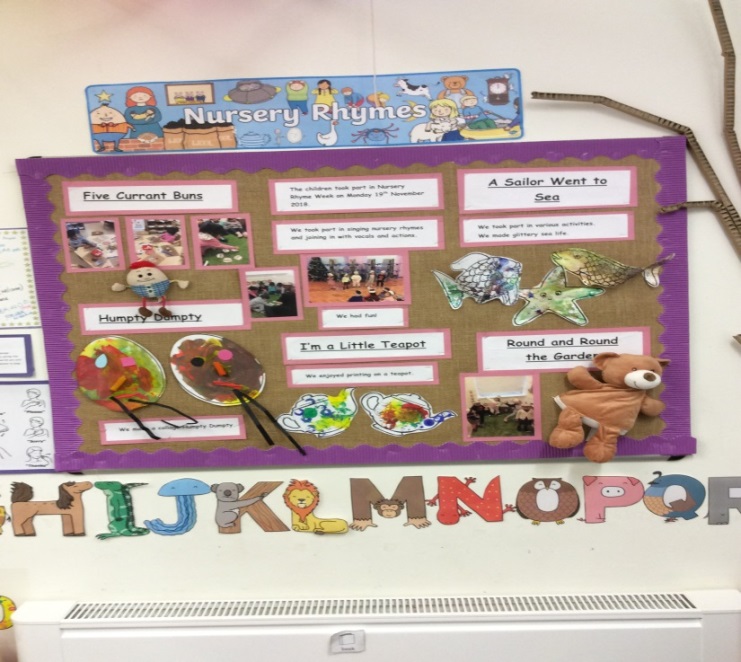 Nursery
On Monday the children learnt the rhyme 5 Current Buns; they counted backwards and looked at subtraction. They then collaged different pictures from the rhyme and also drew current buns. Using play dough the children moulded current buns with their hands remembering to put a cherry on the top.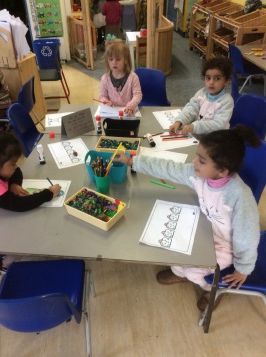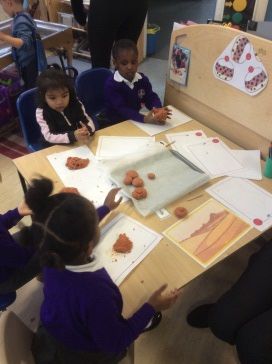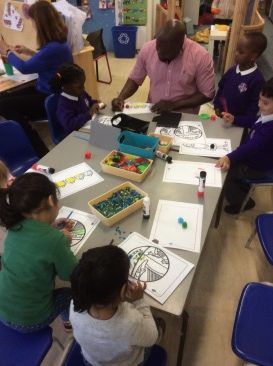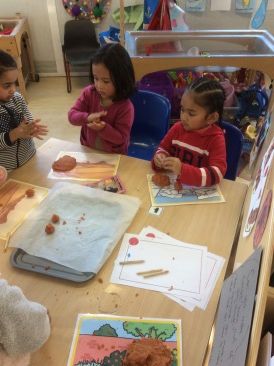 Tuesday they used different shapes thinking about where to place them to make Humpty Dumpty. They also had to put humpty dumpty back together again by matching the same number this helped them to identify numbers 1-10.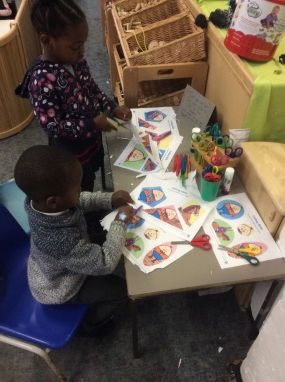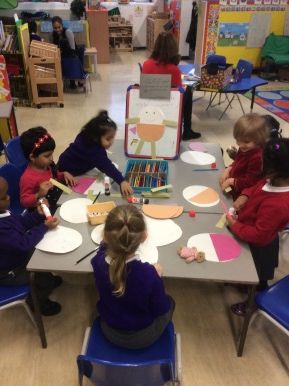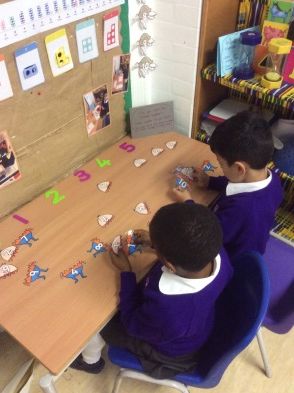 Wednesday we all became sailors and thought about what the sailor might have seen in the sea. Around the classroom the children could create their own seas and also explore the water area where they looked and felt what was under the dark blue sea.

On Thursday the children all learnt the dance to I'm a little Tea Pot, they then followed 1 step and 2 step instructions to create a teapot, as well as having a tea party in the outside area.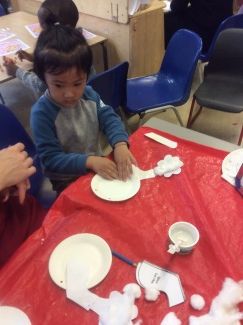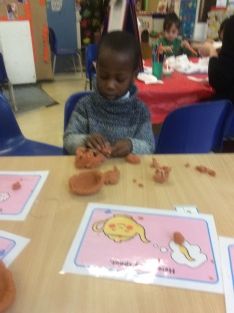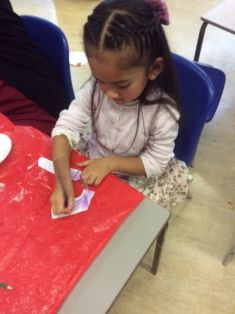 Friday the children created bears using different materials so it could go round and round the garden, they also had a teddy bears picnic in the outside area and was retelling the nursery rhyme.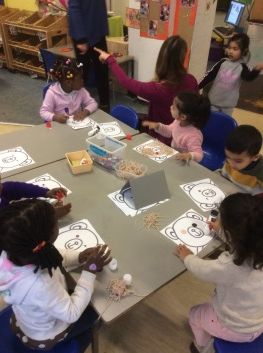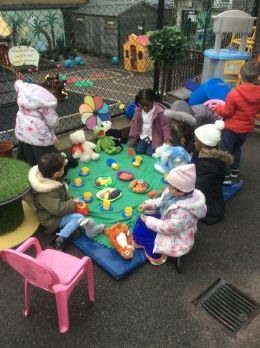 To end the week the whole of EYFS got together for an assembly where each class choose a different rhyme from the week and performed it. They all learnt the words and actions to go with it. The Nursery children sang and performed Humpty Dumpty.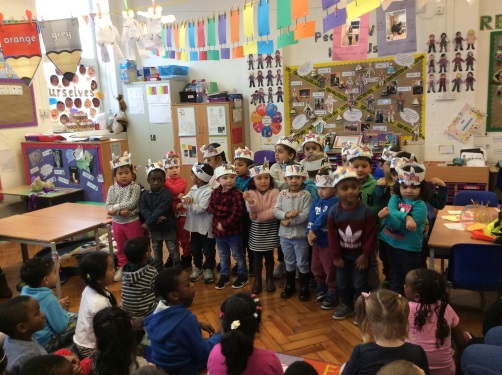 Reception
We have had lots of fun singing and joining in with the different nursery rhymes we have sung in small groups and as a class. Using our fine motor skills we have cut out different scenes of humpty dumpty and then re ordered them. We also sang and acted out Humpty Dumpty with props.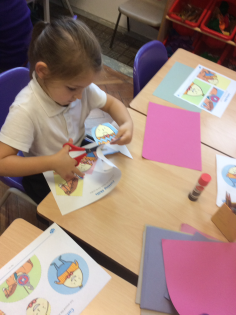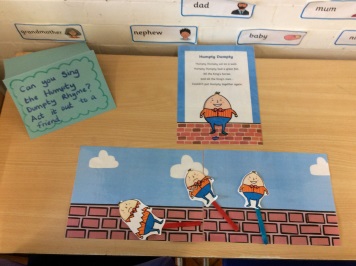 We also looked at subtracting one from a group of buns when singing 5 Current Buns. During Wednesday we made hats for our performance and thought about where to place things. We also had pictures of other nursery rhymes, when the children then shared the songs with their friends.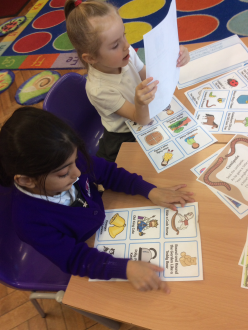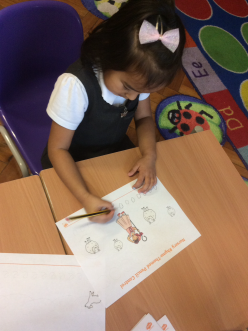 We decorated and made patterns on teapots after learning I'm a little teapot and also used our phonic skills to write words from the rhyme.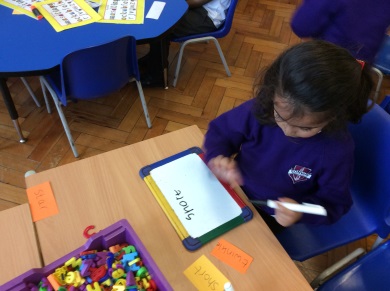 We have been practising Five Current Buns to perform to the rest of EYFS and we made current buns with play dough.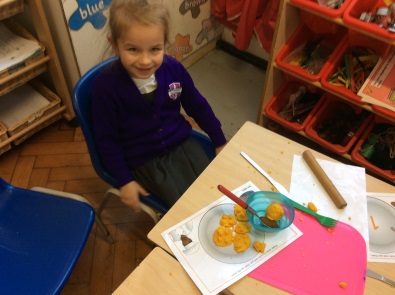 Children listened to, joined in and danced to nursery rhymes on the board. We discussed the classes' favourite nursery rhyme and discovered that most of us enjoy single twinkle, twinkle. We made our own star pictures.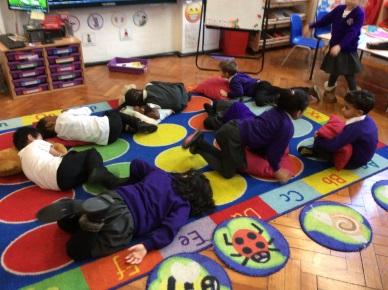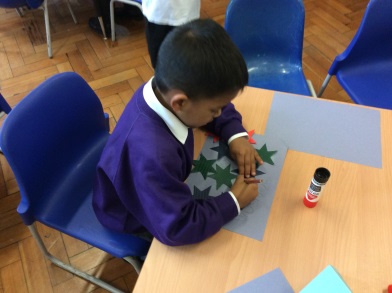 In the assembly we confidently sung and enjoyed performing to the whole of EYFS, RA performed A Sailor went to Sea and RB Performed 5 Current Buns. We all enjoyed watching the other classes perform nursery rhymes.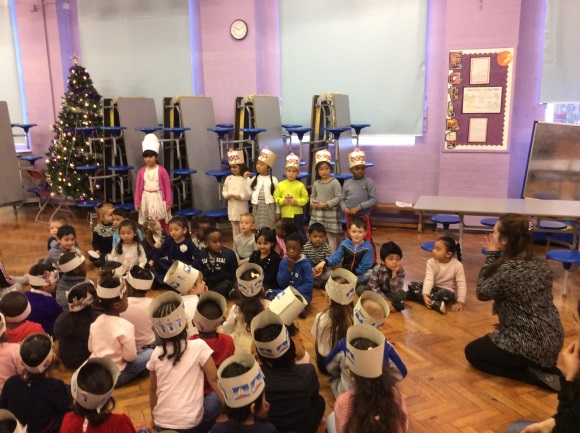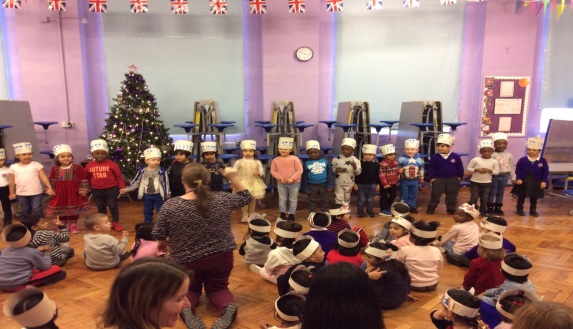 Road Safety Awareness Week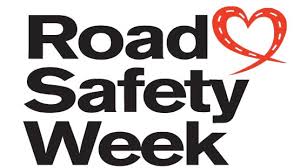 Conway took part in raising awareness for road safety awareness week (19th-25th November). The aims of the event was to identify ways of keeping safe on the road both as a motorist and as a pedestrian and to raise awareness of the risks associated with not adhering to road safety rules.
Each year group took part in a different activity to highlight the importance of road safety:
EYFS- completed activities discussing road safety and why we have traffic lights. They even learnt a road safety song!
KS1- created road safety posters and the importance of holding hands when crossing the road
KS2- completed a range of drama activities from taking on the role of a lollipop person, creating their own road safety raps and writing and performing their own plays. Year 5 even made their own brake pledges. The Pledge calls for people to do everything they can to protect themselves and the people around them.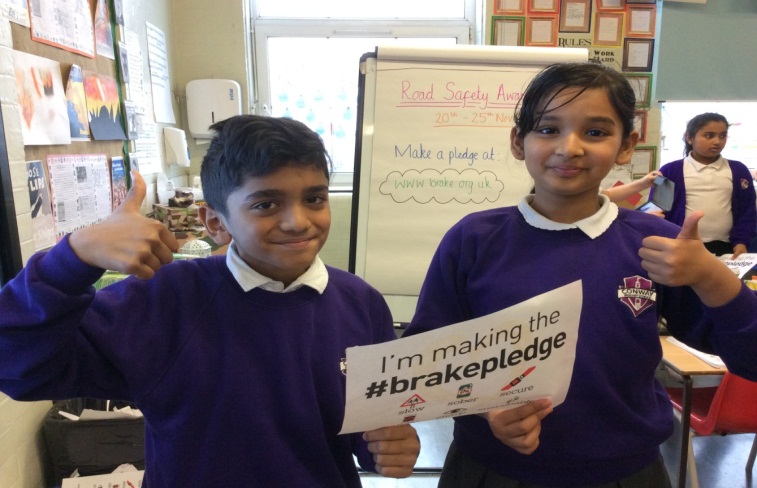 World Space Week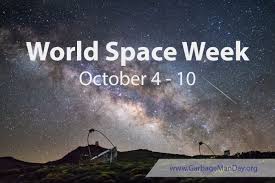 Conway celebrated world space day on Tuesday 9th October to develop a greater interest in space exploration and understand the importance of space science.
EYFS developed their language to describe space. They were learning to describe the different planets in our solar system. Reception children created their own mobile representing the different planets and considered questions like: How does the size of the planets change?
Year one talked about space and how huge it is and decided there must be some life somewhere else out there in space; it can't just be us here on Earth! They discussed what an alien might need to survive. What would an alien look like? They had great fun designing their own aliens and thought about what features the aliens needed to survive.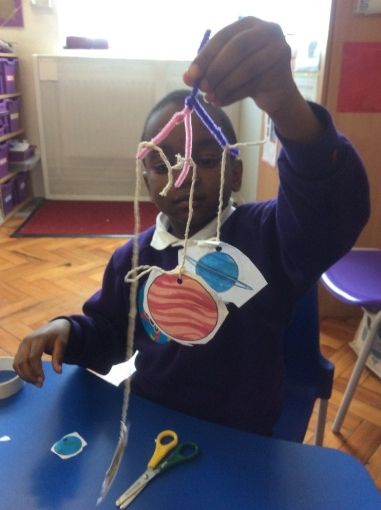 Year two read "What Ever Next!" which is a story about a bear travelling to the moon. To find out the best material to keep teddy dry and comfortable, they carried an investigation to find the best waterproof material for teddy's space suit. They made sure that the test was fair by dropping the same amount of water on each material.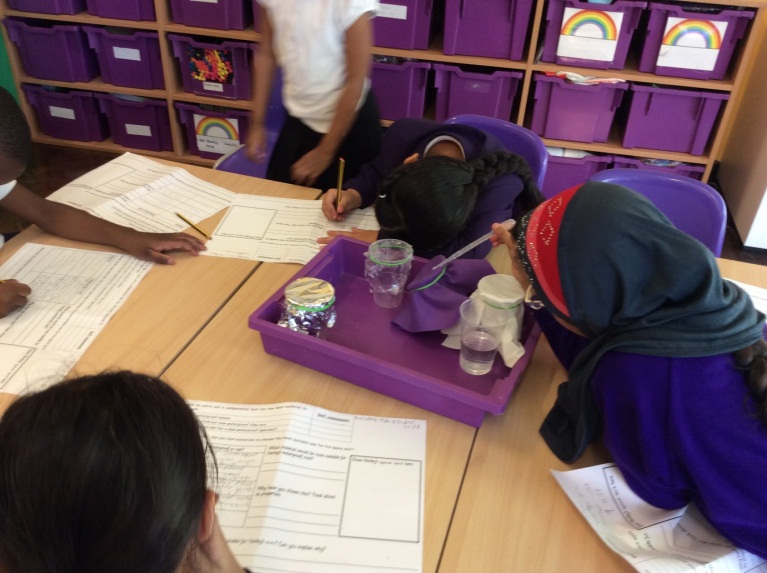 Year three learned about the history of space travel and watched videos of our current knowledge about our Solar System. They have written imaginary diary accounts of a space journey.
Year four explored different ways to make a rocket launch. They experimented with varying amounts of ingredients to see which produced the most propelling force.
Year five researched what evidence scientists have collected about the different phases of the Moon.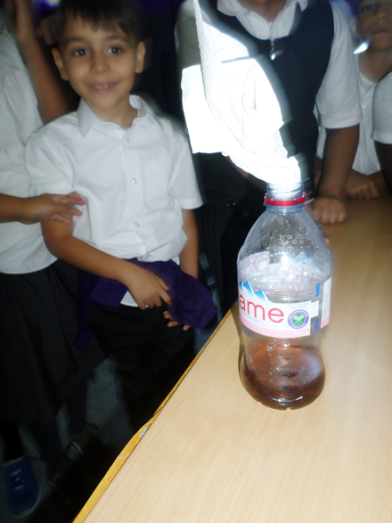 Year six watched a video of the historic event of the first moon landing in 1969. They discussed the monumental impact this event had on the world and space travel.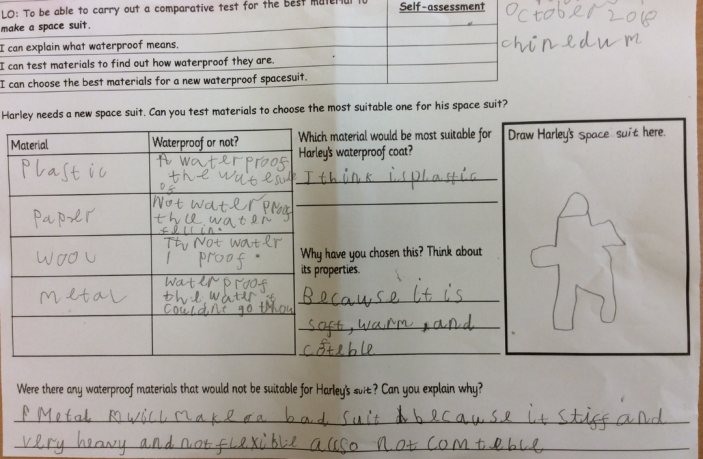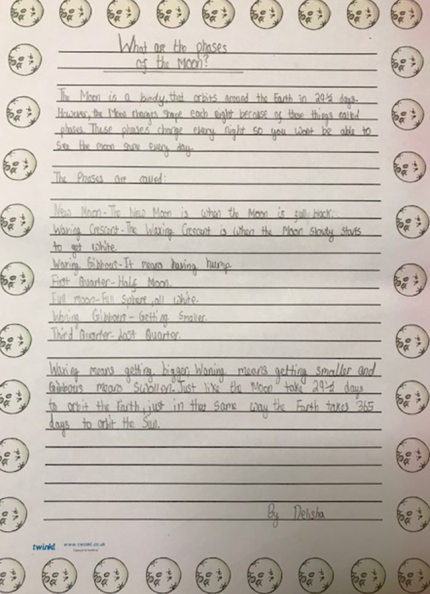 Roald Dahl Day
This year we celebrated Roald Dahl Day on Friday 14th September 2018. As part of the day we dressed up as our favourite characters from one of Roald Dahl's stories. Each year group focused on the Story of James and the Giant Peach. We learnt about the different characters in the story and explored the plot. In the afternoon each year group produced some wonderful art based on the story.