Year 5
Autumn Term
In English this term, our focus this term has been 'The Highwayman', Robin Hood', and 'Rose Blanche'. 'The Highwayman' and 'Robin Hood' linked to our theme of legends in writing. We read these stories, got to know the characters and understood what made them legends. We learned different skills such as writing descriptions using fronted adverbials, expanded noun phrases, adventurous vocabulary and writing speech to help picture the character, their mood and personality. We used all of this learning to write our own stories! You could say, we became legends!
We also studied 'Rose Blanche' by Roberto Innocenti. We loved reading this story as it was about a little girl, who lived in Germany, during the time of the Second World War. It told a story of her experiences of life during the war, which ended very sadly. The author used lots of imagery and figurative language which we have also learned about. We have learned about personification, similes and metaphors…ask us to show you one! We wrote an adaptation of this story and changed the ending using all the skills we have learned so far this term. We are also working really hard to be able to use spelling strategies to helps us read and spell and to join our writing consistently.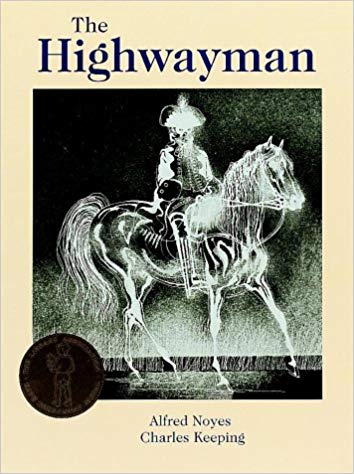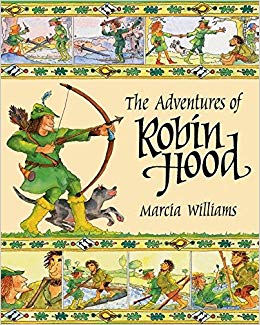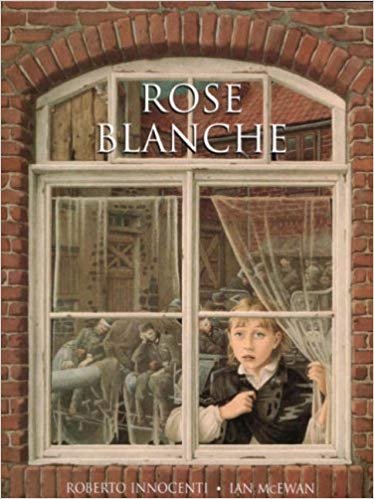 During the Autumn term, children have been building upon their year 4 knowledge. In year 5 children have been learning their times tables, including division facts up to 12 x 12. Children work with both larger and smaller numbers in Year 5 and so have been identifying the value of digits in numbers with 3 decimal places and numbers up to one million. Addition and subtraction written methods have been taught and children have applied them to solve practical problems. In geometry, children have learned about calculating the perimeter of different kinds of shapes, both regular and irregular. However, children found using a protractor to measure and construct angles particularly challenging!
Science
In Science this term, we have been learning all about Space.
We can now identify all eight planets by their positions in relation to the Sun and their physical properties. An interesting fact we learned was that Mercury contains wrinkles which are called lobate scarps. This suggests that Mercury's crust could have possibly contracted.
Additionally, we engaged in discussions arguing which theory of planetary movement is correct. In the end, we all agreed that the heliocentric theory could be proven with more evidence in comparison to the geocentric theory.
As well as this, we took part in a very exciting investigation to help us understand how day and night occur. We can now explain this using examples from around the world!
We have really enjoyed our Space learning this term and are looking forward to learning about forces next half term!
Topic
In topic this term, year 5 have been studying World War 2. As part of this, the children have located countries around the world that were involved in the war on a world map. We have also looked at evacuation, rationing, the Blitz and life during the war. For the remainder of the term, we will be studying the Battle of Britain and key events that occurred during the war.
Art
During Art this term Year 5 have created artwork based on the 'The Blitz'. This has linked with our topic 'The Second World War'. To achieve this we have explored a range of materials and how to manipulate materials. We used masking tape the create lines and shapes on card then used chalk and pastels to colour over the whole page. Once we removed the tape it left us with an interesting pattern. We used this to create the flood lights from the ground during the blitz. We also consolidated learning of how to make a silhouette, some of us needed some support in this as it is really tricky!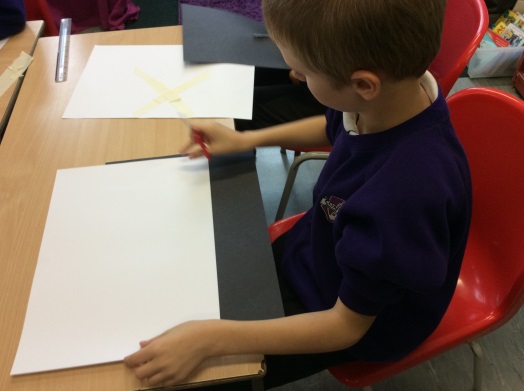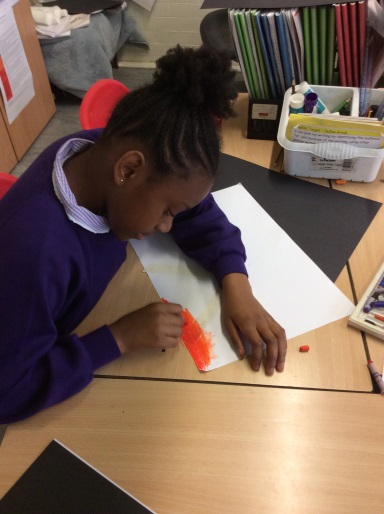 Computing
This Autumn term, Year 5 children have been learning about Computer Aided Design. We considered how computers have made the design process much more efficient from the time in the twentieth century when designers used technical drawing skills and school children attended technical drawing lessons.
Children selected a web-based CAD app called Tinkercad, with the design brief to make a virtual clubhouse, with a door, windows, a piece of art on the wall and a bench to sit on. Children started with only basic shapes, such as cuboids or prisms and had to create the right sized holes to make new shapes.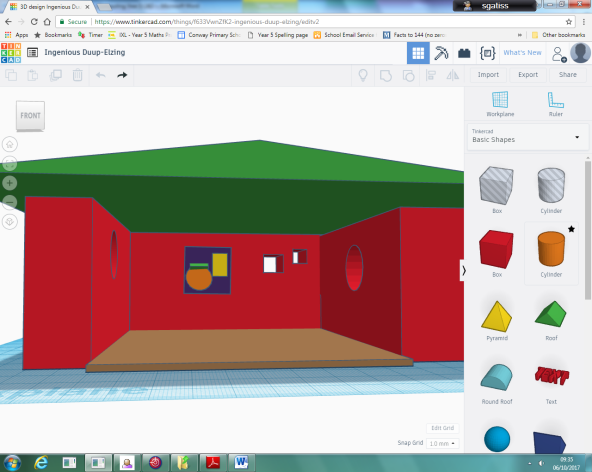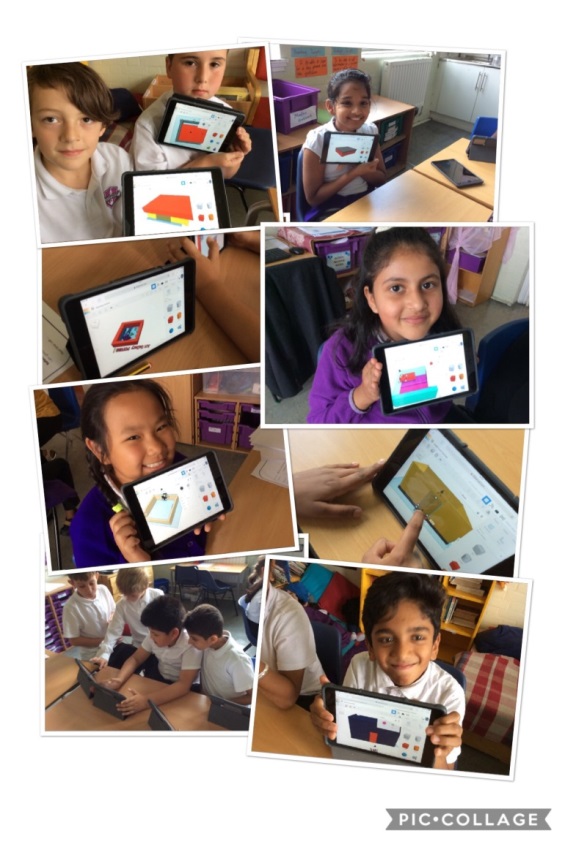 PE
This term in PE, Year 5 have been learning the importance of teamwork. They completed a number of teambuilding games with a range of focuses including communication, leadership, co-operation and turn taking. One of the games they played was move the hoop. In this game children had to get into small groups and hold hands, only once a hoop was placed over someone's arm. The aim of the game was to then move the hoop around the circle of children without breaking the circle. For this they needed to co-operate and communicate to ensure they were successful. The next week they played this exact same game except they had to choose a leader. This child then had to give specific instructions to the rest of the group to follow. This is where they really saw the importance of communication.
RE
This term we have looked at 'Faiths in Greenwich' in Autumn 1 and 'Sikhism' in Autumn 2.
For 'Faiths in Greenwich' we looked at all the different faiths and religions that are in our borough, and the similarities and differences between them. We have learned about their beliefs and how they relate to the local community. We researched how the local community by working together can make a big difference. We created a Fairtrade poster and decided that by helping others we also help ourselves.
In Autumn 2 we have started to look at Sikhism. We have researched and noted down the contributions that the 10 Gurus have made. We will be looking in more depth at the symbols and mantras in Sikhism and how they are important. We will also be focussing on their holy place the Gurudwara discussing what they have to wear, what rules they have to follow, and researching what they look like inside and out. We will then focus on their holy book the Guru Granth Sahib and discuss its importance.
Educational visits
This term we had the opportunity to visit 'Chislehurst Caves'. This was a super exciting trip and lots of children came back to school saying "it's the best trip we've ever been on"! They got to experience a real-life air raid shelter. The guides took us down, class by class, to explore parts of the cave (we couldn't explore the whole thing as its 22 miles long)! We learned about the people who used the cave when there was danger during World War One and Two. Some people even lived in the caves as they sadly lost their homes. The caves were like a village with everything you could want and more! They had bunks, toilets, shops, cafes, a hospital, a stage, a barber, a post office and even a citizen's advice bureau! The children enjoyed walking around and experiencing cave life. The adults were given lanterns to light the way although this did not help greatly as it was incredibly dark. They experienced what it would have been like when bombs were dropping. All the lights went out, we were left in complete darkness (we couldn't even see our hands in front of our faces) and the guides created a sound that echoed throughout the area we were in. You can imagine the screams from the girls…and boys!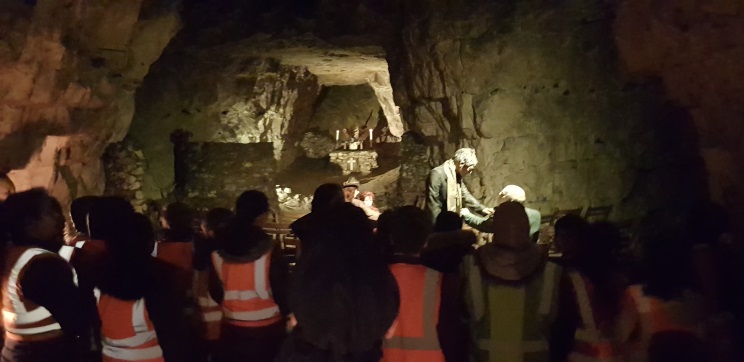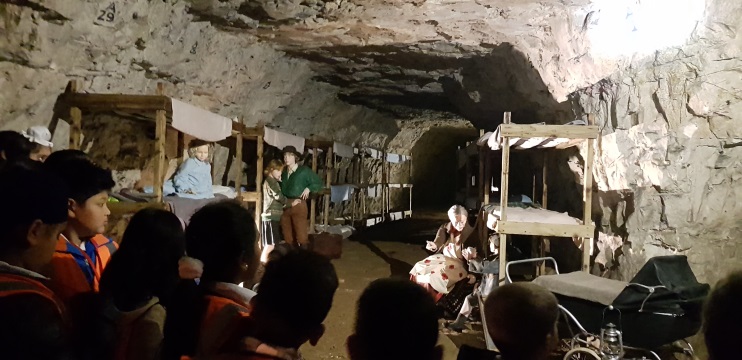 Next term (Spring)
Next term we will be focussing on writing mysteries and suspense novels in English. We will link this to our book 'The London Eye Mystery'. We will also be writing reports and instructions as our non-fiction learning. In addition to these text types we will be looking into poetry during the Spring term and focusing on rap.
We will consolidate our learning of place value, the number system and multiplication and division. We will be continuing our learning of the chunking method for division, ask us to practise at home. We will learn more about measurements including length, mass and weight and link this to multiplication and division. We will explore money in greater depth, fractions time and position and direction.
Our topic for Spring 1 is 'Crime and Punishment' and for Spring 2 it will be 'Leisure and Entertainment in the 20th Century'. In Science we will be learning all about 'Properties and Changes of Materials'.
If you would like to have a look at the national curriculum website please click here.