Year 2
Spring
English
In English this term, our focus reading texts have been The Emperors Egg and Max- a superhero story. We have loved reading both books as they are linked to our topic and gave us more of an understanding about life at the poles and superheroes.
After reading The Emperors Egg we learned so many new facts about penguins which we used to help us write an interesting non-chronological report. We learnt about the importance of subheadings and paragraphs when organising our ideas.
We really enjoyed reading Max and developing our own superhero stories based on his adventure.
Maths
In Maths, we continued practising counting in equal steps. We enjoyed this type of oral counting especially since it helped to improve our ability to recall the multiplication tables we already knew and helped us learn the multiples of 4! We have also developed our understanding in using and applying mental and written strategies to solve multiplication and division calculations. Our written strategies for multiplication calculations included counting on in set steps on a number line as well as using partitioning.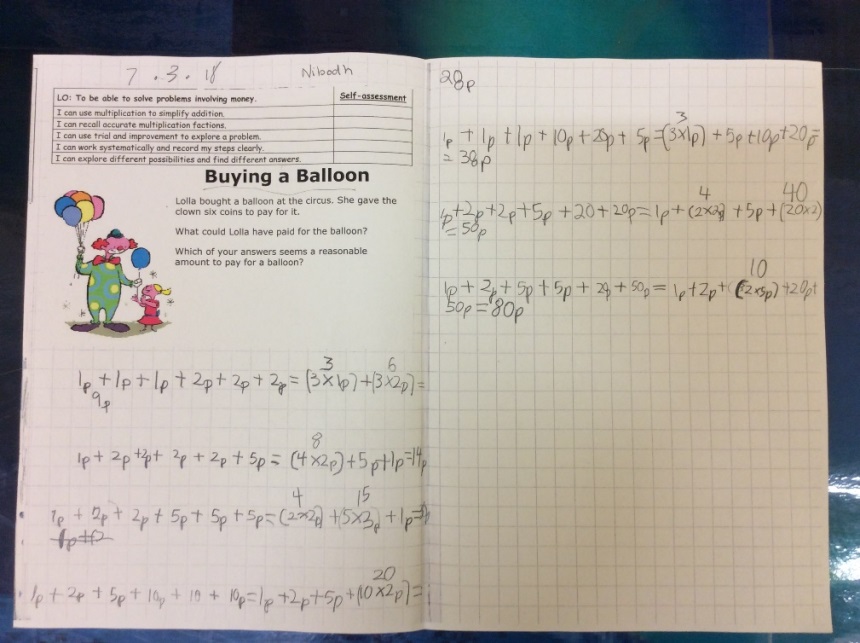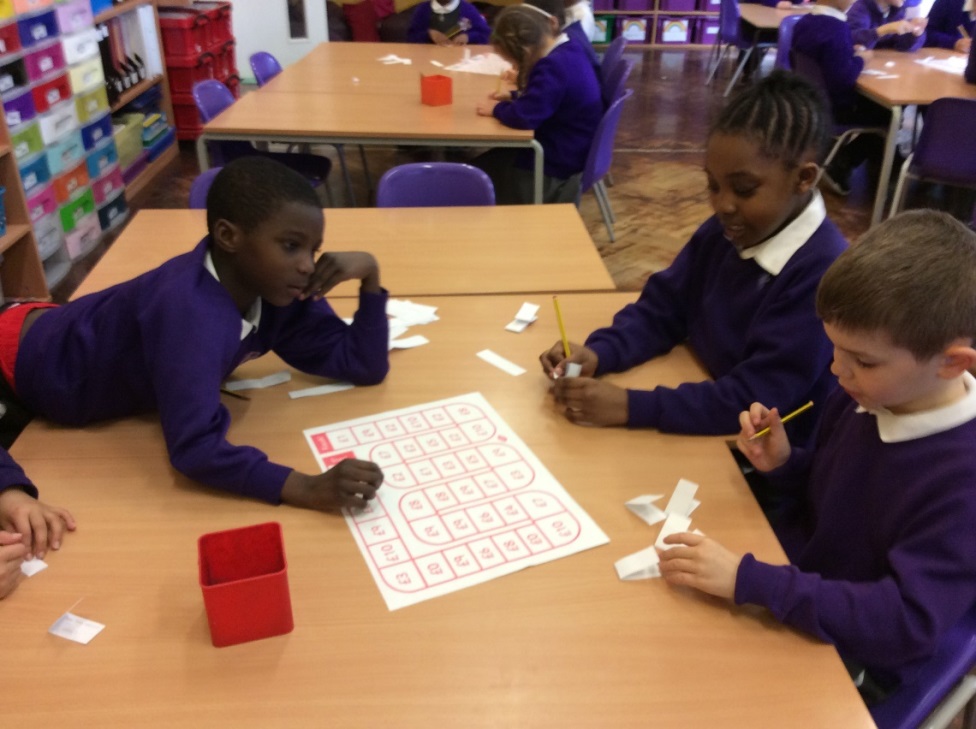 We further developed our understanding of numbers by using arrays to understand multiplication and using our knowledge of multiplication facts to find different fractions of amount. We have applied our problem-solving skills to find different ways to make the same amount. This allowed us to develop our systematic recording skill and use multiplication to simplify addition by writing balanced equations using addition and multiplication.
Science
In Science, we have been learning about plants and their life cycle. We have been asking our own questions about plants and experimenting with different conditions to find out what helps plants to grow well.
We also studied differences between seeds and bulbs and identify foods which come from seeds or bulbs. One exciting aspect of our learning was making a bug hotel during British Science Week. This was link to our topic on Habitat where we learned about different minibeasts in our forest garden and what type of habitat they like to live in.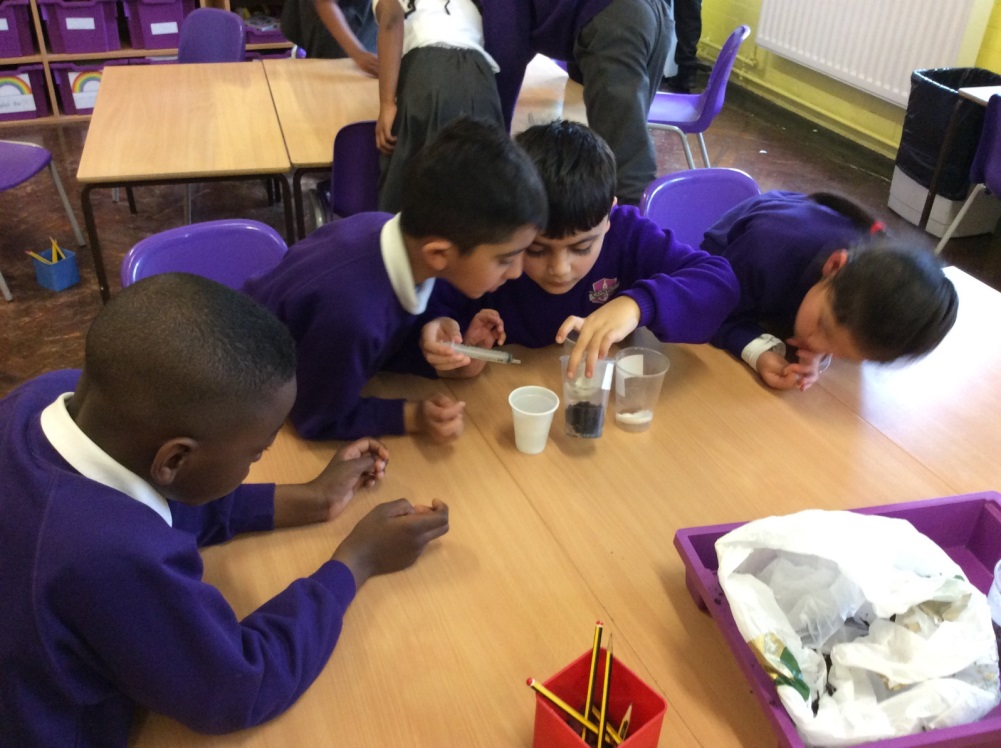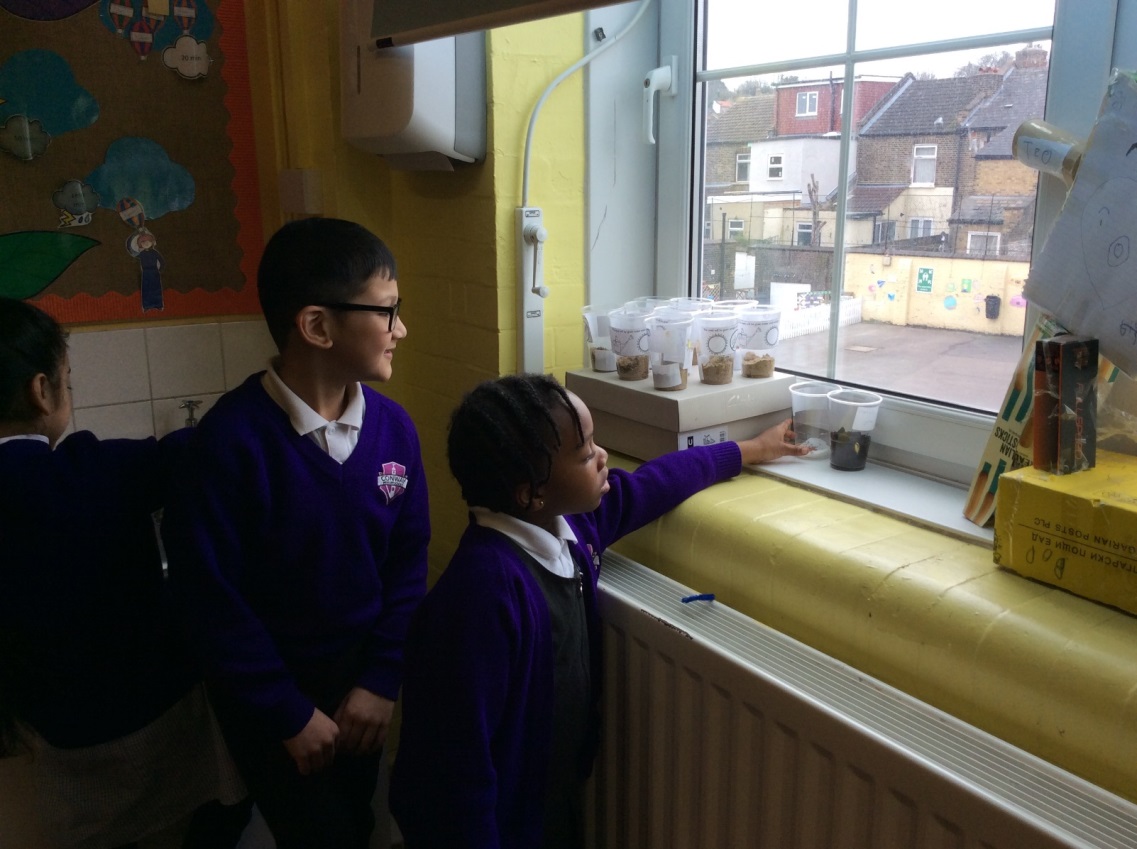 Topic
In Geography this term we learnt about life in the coldest parts of our planet. We started by learning the names of the continents and oceans, then using the equator discussed how the weather and temperature in these places differ. We compared the similarities and differences between life in Artic Circle and life in Antarctica. We found it really fascinating to explore the customs and traditions of the Inuit people in the Arctic Circle, especially the tradition of throat singing. In History we studied the impact of significant people on our lives today. We learnt much about Florence Nightingale and Mary Seacole- Florence Nightingale even came to visit us in school!
RE
This term in RE, we have been learning about the 10 Sikh Gurus and how they put their Sikh beliefs into practice. We have been retelling stories told by the Gurus and learning about how these stories illustrate Sikh beliefs about equality and charity.
We have also been learning about how the Chinese New Year is celebrated and enjoyed eating Chinese fried noodles for lunch. We had fun making Chinese dragons puppet and used these to retell our own dragon stories.
Computing
In computing this term, we have been taking photographs. We have been learning about how to take clear, well focus photographs of people, scenery and objects. We learned how to edit and add special effects such as sparks and graining.
Later we developed our researching skills by learning to ask appropriate questions and creating mind maps using tools in j2e. We learned to use google and other search engine to find out information about our chosen topic on famous people. We also learned to present our information in PowerPoint and create an attractive as well as informative portfolio of our famous person.
PE
In PE we have continued to develop our team building skills. We have worked on building our balance, agility whilst developing our basic games skills.
Art and DT
The focus in Art this term has been on Penguins, linked to our topic. We started by making observational drawings of penguins from a range of photos, looking at the textures of their feathers and the different shapes of their bodies. We then used this to design and make our own penguin puppet. We experimented with different ways to join our materials before we choose to sew using a running stich.
Next Term - Summer
In History and Geography next term we will be learning about the seaside. We will learn about the geography of the coast including what cliffs are and how the seaside is similar or different to our local area. In History we will learn what it was like to visit the seaside in the past.
Our focus text for Literacy will be The Snail and the Whale by Julia Child. We shall be writing stories and recounts about the adventures the Snail and whale go on as well using a wider range of punctuation and spelling with increasing accuracy.
In Maths we will continue to develop our understanding of place value, fractions, measurements and multiplication
In Science we will learn about the Environment and to understand the effect of climate change on the environment. We will be learning about ways to reduce the impact of climate change. Later, we will be learning about Animals Including Humans. We will be describing how animals change as they grow.