Year 2
Autumn term
English
This term we have been working hard on improving our writing. We started the Autumn term by exploring the island home of Katie Morag. She was having a bad day delivering the post. We took the characters and the key parts of the story to help us write our own story. We then learnt more about the island Katie Morag lives on. We used this information to write our own non-chronological reports.
In Autumn 2 we enjoyed reading stories written Lauren Child. We focused on the story of Herb, a little boy who loved to read so much that he accidently fell into a story. He found himself in the world of traditional tales such as Goldilocks and the three bears and Cinderella. Using this as a starting point we explored these tales further, writing our own versions. We also wrote some instructions to help the three bears keep their cottage safe from Goldilocks.
We have really worked hard to develop our handwriting and spelling this term. We have learnt where to start and finish our letters for each family group of letters. We are continuing to learn how to join using diagonal and horizontal joins.
Maths
In Maths, we have been focusing on naming and partitioning 2-digit numbers. Some of us are even working on developing our understanding of place value in 3-digit numbers. We have also been learning to use the number line to support addition and subtraction calculations involving 2-digit numbers. Using this skill we have applied our understanding to adding and subtracting amounts of money. One set was even challenged to see how many different ways they could make an amount using a limited number of coins.
In geometry, we have further developed our understanding of 2D and 3D shapes and recognising similarities and differences between them.
This term we have used practical methods to help develop our understanding of multiplication, division and fractions. We have applied this to solving problems to develop our reasoning skills. We are continuing to practice telling the time to the nearest 15 minutes and even to the nearest 5 minutes. Some children were very good at this and have even challenged themselves to learn digital times that corresponded to analogue times.
Science
In Science we have been learning to identify what materials everyday objects are made from and using new scientific vocabulary to describe properties of materials. For our homework project, we designed and made our own robots out of a range of recycled materials. We have also carried out investigations to explore the different properties of materials by bending, twisting and stretching them. We have learned to work in groups to investigate and choose the best waterproof materials to make a space suit.
This half term we have been researching and writing about the life and work of famous scientists like Elizabeth Gareth Anderson and Louis Pasteur. We carried an experiment to learn more about what Louis Pasteur found out about germs and created posters to warn others to wash hands before and after certain activities.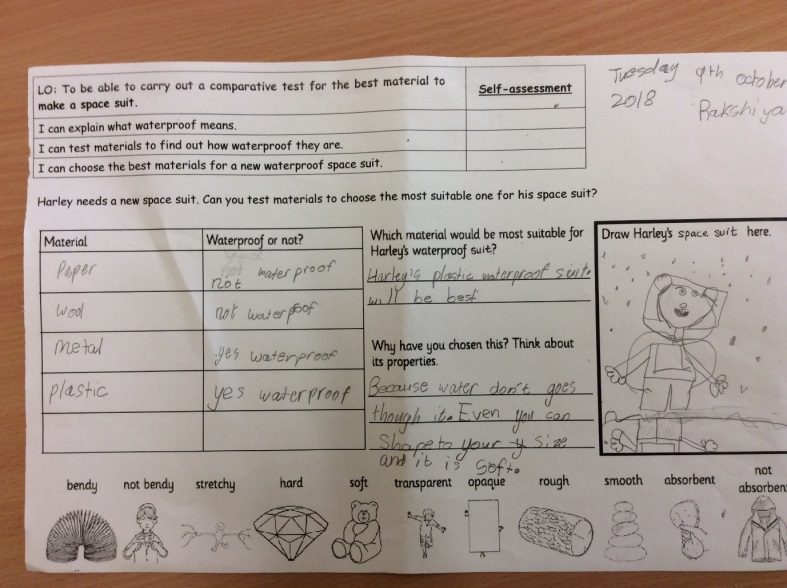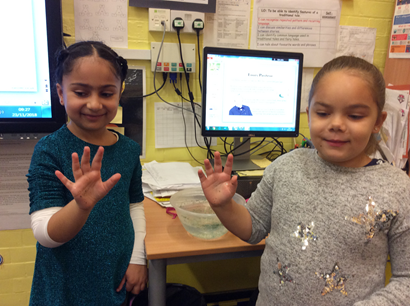 Topic
This term we have been learning more about the country we live in and the history of our local area. We began by using atlas and google earth to locate countries we have visited and the country we live in. Once we had located the United Kingdom we learnt about the four different parts of it and how they have similarities and differences, including their own capital cities. During our lesson on London we challenged ourselves to make 3D models of the key landmarks you would find there.
During Autumn 2 we began to focus more on the history of our local area- Greenwich. We thought carefully about the landmarks and places we can see today using aerial photographs and maps. We even had a go at drawing our own map of Greenwich using a key. We then looked more closely at the history of Greenwich and learnt about Greenwich Palace and how Greenwich has changed since the time of Henry VIII. Our favourite thing this half term has been learning about the Cutty Sark. We used historical sources to help use timeline the life of the Cutty Sark and learn why it is so important in our local history. To help us with this we spent an exciting day on the Cutty Sark- we could still smell the tea when we stepped on board!!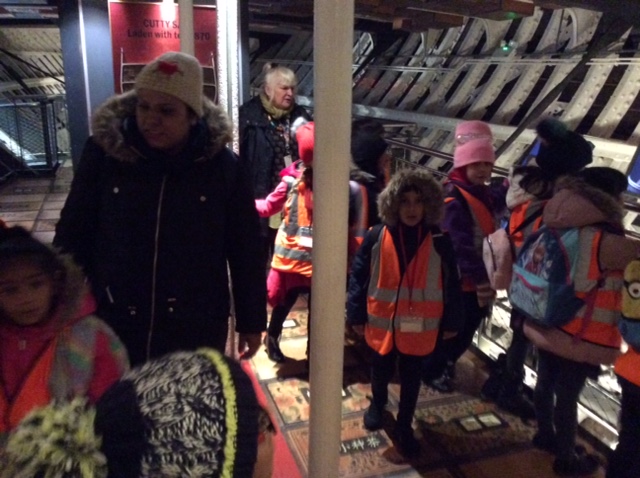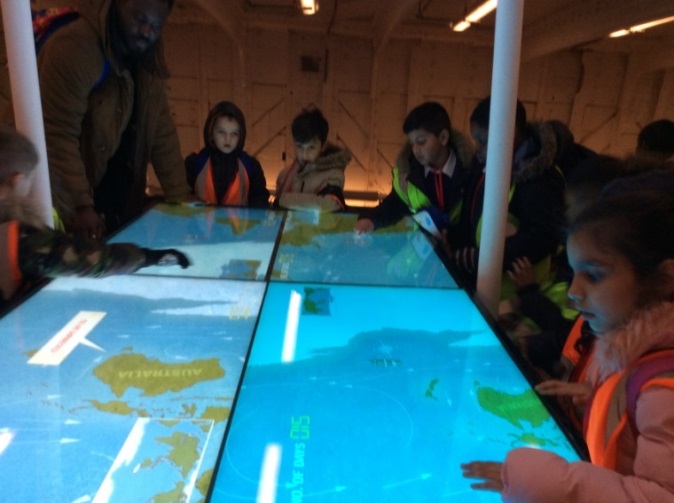 Art
We have had great fun in our art lessons this term. In art we have learning all about Cityscapes and landscapes. We started off by discussing the difference between them and looking at examples from real life. We then began to look in more detail at the art work of Vincent Van Gogh, Monet and Metzinger. We studied their paintings and tried to apply their techniques in our own work. In DT we have been focusing on developing our sewing skills in order to design and produce a fabric bunting. We started by evaluating existing bunting in order to identify what we needed to include in our bunting. Once we had designed our bunting we worked hard to concentrate whilst sewing our bunting using a running stich.
Computing
In computing this term we have been learning about algorithms. We have been using Bee-bots to learn about giving directions and how these link with an algorithm. We have also been using Scratch to create our own background and programme to move a sprite to different positions on the screen using an algorithm. We have been testing different games written in Scratch and identify which part of the codes control the sprite. We have also suggested ways to improve the games. We have also learned how to save and retrieve our computing work on J2e.com. Some of us have also been able to access our work at home using our own password.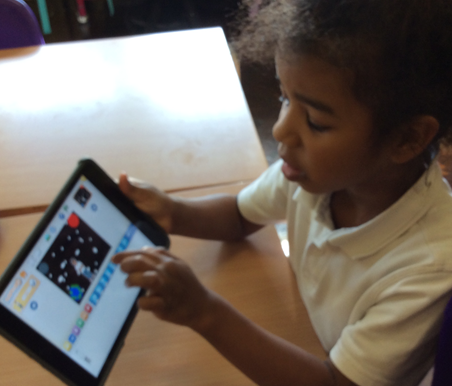 ​​​​​​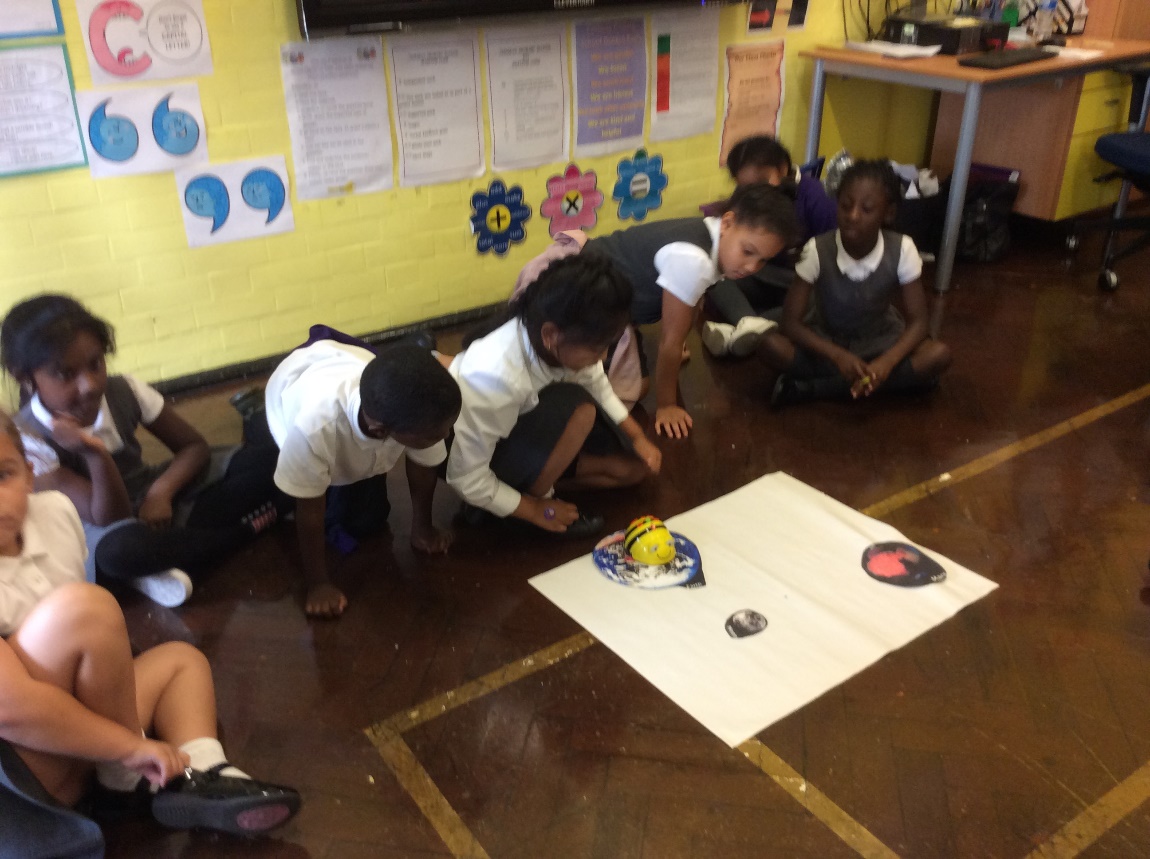 PE
For PE we have been focusing on balancing and agility skills. We challenged ourselves with balancing in different ways using different parts of the body. We learned that the wider the base of support and the closer the centre of gravity is to the base of support, the easier it is to balance.
This half term we have been working on our hand and eye coordination and developing the ability to move our hands into the right position to catch a moving object. We also engaged in lots of fun team games to develop our sportsmanship skills.
RE
This term in RE we have been learning about Sikhism and celebrations. We have learnt about the 5K's and why they are important in Sikhism. We then looked at what a Gurdwara is and what you find inside. During our topic on celebrations we discussed what a celebration is discovered how many different religions celebrate across the world.
Music
During the autumn term we have been focusing on exploring sounds and beats. We have really enjoyed using a range of musical instruments to help us develop our understanding of sound and how they can change. We used our voices in different ways to create our own piece of music.
We listened carefully to a range of music, trying hard to identity and then join in with the beat. We then worked in small groups using instruments to create our own beats.
Next term (Spring)
Next term we will be exploring what life is like in a different part of the world, comparing it to life in our country. In English we are going to read about the Emperors Egg- an information book all about an Emperor Penguin chick. We will be developing our story writing skills, focusing on using expanded noun phrase to describe. Our geography lesson will focus on learning the names and location of the world's continents and oceans as well as a deeper study on life at the North and South Pole. In maths we will continue to work on developing our mental addition and subtraction skills as well and consolidating our understanding of multiplication, division and fractions. In history we will be learning about the life of Florence Nightingale and why she is remembered today. We hope to visit her museum in central London to help us understand more about her life and her important work.